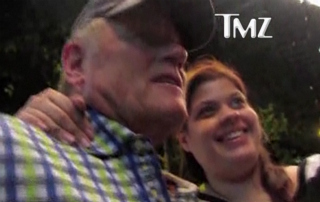 You can add Beach Boys singer Bruce Johnston to the seemingly short list of celebrities who wouldn't be caught at a George Clooney celebrity fundraiser for President Obama. TMZ video shows that while signing autographs after a New York stop of the Beach Boys' 50th Anniversary Tour, Johnston candidly told fans that the president "is an asshole," and that if he is re-elected "you're fucked."
A fan requesting an autograph seemed to have indicated support for Obama, to which Johnston immediately declared "Obama's an asshole." And after tepid disagreement from the fan, Johnston added, "Unless you are interested in never having any money and being socialized."
Johnston didn't have kind words for presumptive GOP nominee Mitt Romney either. "And who's the Republican asshole?" he asked. "Our guy isn't good," he said, "he's not going to win."
"Wait until Obama doesn't have to try anymore," Johnston concluded, "you're fucked."
But he did reserve kind words for some politicians of yesteryear: "You got Reagan and Tip O'Neill. Those are the last two good guys." This shouldn't come as a surprise to those familiar with the Beach Boys' relationship with both the Ronald Reagan and George H.W. Bush administrations.
Check out the video below, via TMZ:
And while I have a captive audience, let me just say that I had the pleasure of seeing the reunited Beach Boys at the first of two New York dates this Tuesday. Despite their age and well-worn vocals, it was a wonderful experience. They played for about 150 minutes and covered pretty much every classic Beach Boys song imaginable. Reclusive genius Brian Wilson was grumpy as ever, but it was nice to see him perform with the band again. And Full House fans would be pleased — John Stamos (aka "Uncle Jesse") made plenty of cameos throughout the show. I definitely recommend checking out the tour if they come to your town.
Here's a photo I took from balcony seats:
Have a tip we should know? tips@mediaite.com