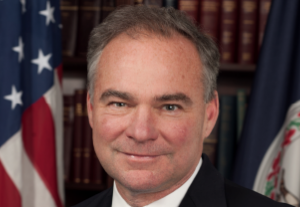 On Tuesday night Democratic candidate for Vice President Tim Kaine will take the stage with Gov. Mike Pence (R-IN) for the first and only VP debate of the election cycle.
The junior senator from Virginia was tapped as the Democratic Party's VP candidate in July. In a tweet announcing her decision, Hillary Clinton praised Kaine as "a man who's devoted his life to fighting for others."
At their first joint public event, Clinton touted Kaine as being "everything Donald Trump and Mike Pence are not!"
In winning the Democratic veepstakes, Kaine edged out other contenders who were considered to be in the running, including New Jersey Senator Cory Booker and Massachusetts populist Senator Elizabeth Warren.
Kaine's roots in Virginia go deep, serving in government roles for over two decades. He has served as the commonwealth's U.S. Senator since 2013. Prior to that, he acted as mayor of Richmond from 1998-2001, Lieutenant Governor from 2002-2006, and Governor from 2006-2010. From 2009 to 2011 he also acted as chair of the DNC.
People have long expected Old Dominion to play a crucial role in the general election electoral map, and his selection will presumably elevate Clinton's chances given Kaine's popularity in his home state. According to a PPP poll in September, Kaine has 50/37 approval ratings among Virginians.
One front where Kaine is likely to diverge dramatically from his Republican counterpart is social issues, which have been largely absent from this year's presidential campaign. A devout Catholic, Kaine has nonetheless taken the progressive stance on abortion rights and marriage equality, putting him at odds with the socially conservative evangelical Pence, who repeatedly has described himself as "a Christian, a conservative, and a Republican, in that order."
In contrast to the rancorous climate endemic to Washington, Kaine has maintained a sunny disposition when it comes to inter-party relations. He once called for an end to what he called "smash mouth" partisanship (borrowing a phrase from his Republican opponent George Allen), and his cheerful temperament has bolstered his image as America's goofball dad.
Oh, yes, and he plays the harmonica:
Tim Kaine plays "Wagon Wheel" on the harmonica at Catawba Brewing Co. in Asheville, N.C. pic.twitter.com/d0bYJAYCt7

— Thomas Kaplan (@thomaskaplan) August 16, 2016
The vice presidential debate is tonight, Tuesday, Oct. 4, at 9 p.m. eastern time. It will take place at Longwood University in Farmville, Virginia, and will be moderated by CBS's Elaine Quijano. The debate will air on all the major broadcast networks and cable news networks, including C-SPAN, ABC, CBS, FOX, NBC, CNN, Fox News, and MSNBC, among others.
You can watch a livestream of the debate here.
—
Sam Reisman (@thericeman) is a staff editor at Mediaite.
Have a tip we should know? tips@mediaite.com