Donald Trump on Melania's Naked Photos in 1999: 'She Sure Doesn't Look Like Barbara Bush'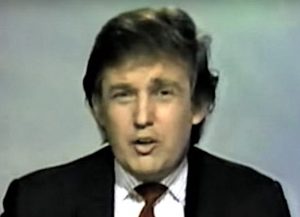 Remember all the fun we had yesterday going through old newspaper articles from 2004 and 2005 to find fun tidbits about Donald Trump's wedding to Melania Knauss? We learned that he didn't pay for her ring and the story had a twist ending. Today, let's go even farther back in time. Let's go to 1999, when Melania was 26 and did a risqué photo shoot on her future husband's private plane.
An article in the New York Daily News described her attire like this:
The shots, by New York photog Antoine Verglas, show Knauss cavorting on Trump's private 727. In one, she's lounging face-down on his bed wearing only diamond bracelets, a diamond necklace and black stilettos. Another photo finds her in the cockpit wearing a revealing "shirt," made of what look like key-chains. Other photos show Knauss spilling out of an olive-lamé one-piece; Knauss descending the plane's stairs in a silver thong and maribou jacket, and a bikini-clad Knauss standing on the plane's wing, brandishing a silver pistol.
There's something for everyone to love here. Pistols, jumpsuits, cockpits… this was, by all standards, a great photoshoot. Trump loved it, too:
She sure doesn't look like Barbara Bush.
There we go. That's the intrigue.
Why mention a First Lady? Well, even back in 1999, Trump had presidential ambition. If you'll recall, CNN did a man-on-the-street segment in that same year and got people to say that the idea of a Trump campaign for the highest office in the land was "ludicrous." Still, the NYDN led into their piece with, "Donald Trump's would-be First Lady is keeping nothing from voters." Someone had to be interested.
Obviously, the take-away here is that — unlike what some pundits are saying — Trump's candidacy did not come out of nowhere. Moreover, he has always stood by the woman who would become his third wife and defended her naked photos from any detractors; that, too, is not new.
Digging through archived articles has proven that much of the Trump ethos has remained exactly the same for decades. As we learned yesterday, the press has always derided him and he has always taken courting them and insulting them in turn.
His wife is no Barbara Bush. She is a Melania Trump.
[image via screengrab]
Have a tip we should know? tips@mediaite.com