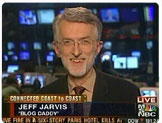 Author, blogger, pundit and Internet lion Jeff Jarvis announced yesterday via his blog that he has prostate cancer. The What Would Google Do? author wrote a short, honest blog post about the diagnosis yesterday, explaining his decision to share the news thusly: "I argue for the benefits of the public life. So I'd better live it."
Another benefit of living the public life: Holding yourself up as an example to others, and a cautionary reminder. Jarvis said that his cancer was "caught very early, found in only 5 percent of one of 12 samples gathered" and called himself "lucky" — and then tried to pass that luck on:
I also hope to be one more guy to convince you men to get get your PSA checked: a small mitzvah in return for my luck. And when we talk about the cost of screening in the health-care debate, I'll stand up to say that when you're the 1-in-100, screening is worth it.
He also maintained a sense of humor about the process, joking about one of his classic blog foes (not us): "I'm opting for robotic surgery – geek that I am, how could I not? My only fear is that they'll wheel me into the O.R. and I'll see that the machine is powered by Dell."
Javis' forthright announcement caught the tech and new media community by surprise – there are few who are as ubiquitous and familiar, with such deep roots across media. The comments section is like a who's who of Internet well-wishers, with sincere and supportive comments, plus fans of his book offering the support of strangers who feel like they know you (one guy said he was a nutritionist and recommended tomatoes; another guy REALLY recommended tomatoes. Apparently they are thought to reduce the risk of prostate cancer. What would Google do? It would return a whole bunch of results and also mention broccoli).
Of course the personal messages have a different sort of meaning, and they really speak to how highly Jarvis is regarded in his community. Jay Rosen may have epitomized the classic multi-media wish for Jarvis: "As I said on Twitter, my friend: We're with you, Jeff. We're with you all the way."  R/T.
We wish Jarvis the best of health and luck on this unexpected and difficult new phase in his life, but after scrapping with him ourselves, we know that cancer's got a helluva fight ahead.
The small c and me [BuzzMachine]
Image above via Jarvis on BuzzMachine. I just noticed that he named it "blogdaddy." Funny.
Have a tip we should know? [email protected]