Betsy DeVos Taking a Ton of Heat for Praising HBCUs as 'Pioneers of School Choice'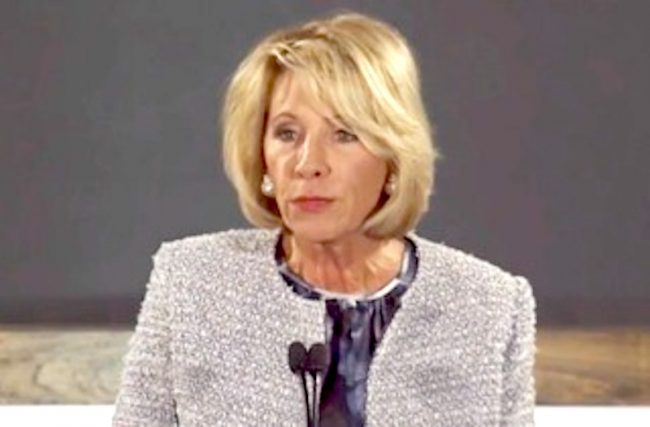 Following President Donald Trump's meeting yesterday with a number of representatives of Historically Black Colleges and Universities (HBCUs), Secretary of Education Betsy DeVos released a statement that somehow tied the meeting to one of her key policy goals. (Emphasis added.)
They started from the fact that there were too many students in America who did not have equal access to education. They saw that the system wasn't working, that there was an absence of opportunity, so they took it upon themselves to provide the solution.

HBCUs are real pioneers when it comes to school choice. They are living proof that when more options are provided to students, they are afforded greater access and greater quality. Their success has shown that more options help students flourish.
Well, as one would expect, this statement created quite a bit of backlash, largely due to the fact that most HBCUs were established during a time when African American students had no other choices when it came to education.
Maybe DeVos should examine the reason for the 'H' in HBCU.

— Ankit Panda (@nktpnd) February 28, 2017
So the HBCU presidents were ambushed and DeVos drops a letter talking about how great HBCU's are because they were pioneers of "choice?" pic.twitter.com/MIajlxh4mt

— Elon James White (@elonjames) February 28, 2017
Next Betsy DeVos will praise slaves for being "entrepreneurial self starters"

— Oliver Willis (@owillis) February 28, 2017
I'm still just blown away at DeVos using HBCUs to reinforce rhetoric on (resegregating) school choice. The snake eats its tail.

— Vann R. Newkirk II (@fivefifths) February 28, 2017
"Redlined neighborhoods are monuments to housing choice." -Betsy DeVos, probably

— Brian Beutler (@brianbeutler) February 28, 2017
What's next, Japanese American kids learned better because we could focus inside those camps? Good grief. https://t.co/xZkd8wGotD

— George Takei (@GeorgeTakei) February 28, 2017
DeVos: HBCUs are "pioneers" in school choice. And Native Americans were pioneers in group living arrangements.

— Michael Tomasky (@mtomasky) February 28, 2017
Totally nuts. DeVos pretending that establishment of historically black colleges was about choice not racism. https://t.co/gROpItxRx4

— Claire McCaskill (@clairecmc) February 28, 2017
The president is expected to sign an executive order related to HBCUs sometime today and DeVos is scheduled to give an address at a luncheon that will be attended by reps from the colleges and Congress.
DeVos is slated to give the keynote speech at today's luncheon with HBCU leaders and members of Congress.

— adam harris (@AdamHSays) February 28, 2017
DeVos' "school choice" comment wasn't the only thing causing outrage surrounding Trump's meeting with the HBCU leaders. White House counselor Kellyanne Conway being pictured kneeling on the Oval Office couch during a photo op also led to a large amount of ridicule.
[image via screengrab]
——
Follow Justin Baragona on Twitter: @justinbaragona
Have a tip we should know? [email protected]