Bewitched, Bothered, and 'Bewildered': Look at All the Adjectives WaPo Uses to Describe George W. Bush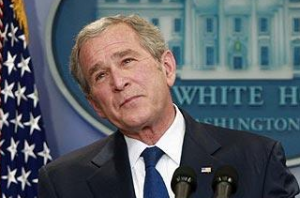 The Washington Post found an interesting way to bring up the fact that George W. Bush plans to campaign for brother Jeb Bush in South Carolina: they made him look like a very confused baby.
The article, which focuses on the former president's reaction to this year's election cycle, is clearly the product of numerous interviews with friends and former advisers and it very well done. As his stump speech on Monday will be his first foray back into politics since abdicating his position in 2008, it does a great job of underscoring the shock that spurred him back into the game.
Still, Philip Rucker and Ed O'Keefe picked some very special phrases, adjectives, and verbs to make their points:
"The 2016 campaign has bewildered and captivated George W. Bush…"
"He tunes into the debates, even though they stretch on past his bedtime."
"[He and Laura Bush] express amazement…"
"He … is taken aback…"
As the authors described him sort of like a newborn baby discovering his hands for he first time just before drifting off to sleep, the people they interviewed spoke of Bush like a gentle giant with a propensity for smushing everything he loves:
"He doesn't want to hurt his brother; he wants to help his brother," said Bush family aide Anita McBride.
Glad we got that one cleared up.
Had John Steinbeck lived to see this spectacle, he might have reissued Of Mice and Men to swap the main characters' names.
[image via screengrab]
For more from Lindsey, follow her on Twitter.
Have a tip we should know? tips@mediaite.com