Bill Belichick Doesn't Care What His Opponents Say on 'SnapFace' and 'InstantChat,' Thank You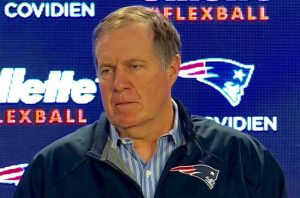 Bill Belichick is no fan of technology. This is something we've chronicled this season, following an incident in which he Patriots head coach smashed a tablet on the sidelines during a game.
During an interview with a Boston radio station on Monday, the four-time Super Bowl-winning coach once again made his feelings about technology perfectly clear — as only Belichick can.
"As you know I'm not on SnapFace and all that," Belichick said on Boston sports station WEEI, according to ESPN's Adam Schefter. "So I don't really get those."
Belichick was referring to a Facebook Live post made by Pittsburgh Steelers wide receiver Antonio Brown. In the video, Steelers head coach Mike Tomlin had some choice words for the Patriots — who his team will meet in the AFC championship game on Sunday.
"We spotted those assholes a day and a half," Tomlin said. "They played yesterday. Our game got moved to tonight. We gonna touch down at 4 o'clock in the fuckin' morning. So be it. We'll be ready for that ass."
Belichick was wholly unconcerned with the SnapFace post.
"I'm really just worried about getting our team ready to go," Belichick said. "I'm not really too worried about what they put on InstantChat, or whatever it is."
[image via screengrab]
–
Follow Joe DePaolo (@joe_depaolo) on Twitter
Have a tip we should know? [email protected]
---
Joe DePaolo - Senior Editor