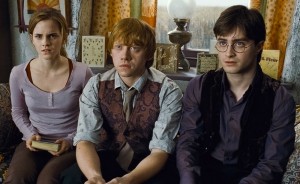 Internet trolls predictably lost their collective mind when it was announced that the part of Hermione Granger would be played by a Swaziland-born actress in the upcoming Harry Potter and the Cursed Child stage play in London.
According to the Telegraph, Oliver Award-winning actress Noma Dumezweni will play a much older version of Granger in the play, which see the character, her husband Ron Weasley (Paul Thornley) and their friend Harry (Jamie Parker) taking on a new adventure as adults.
Fans of the books and the films have long since known about The Cursed Child, which is scheduled to open on July 30, 2016 at the Palace Theatre in London. However, the casting of the three primary characters was only just announced, and since Dumezweni is black and Emma Watson (who played Granger in the films) is white, the distinction has riled up the Internet's usual suspects.
Author J.K. Rowling came out in defense of Dumezweni's casting, noting that she never specified the character's ethnicity in the books.
Canon: brown eyes, frizzy hair and very clever. White skin was never specified. Rowling loves black Hermione ? https://t.co/5fKX4InjTH

— J.K. Rowling (@jk_rowling) December 21, 2015
However, many combative readers posted scans of the same passage from Harry Potter and the Prisoner of Azkaban.
Don't give a dam about Hermione ethnicity. BUT for all those saying her ethnicity was never mentioned in the books.. pic.twitter.com/2nPWwCweWZ

— Danny Allen (@DannyAllenUK) December 21, 2015
Trolls grabbed this and other tidbits from the books to defend against what they saw as the play's ruining of the character. As always, more defenders than not came out to praise Dumezweni's casting in The Cursed Child. That, or poke fun at the hoopla.
THEY CAST A BLACK HERMIONE???? *BURSTS INTO BLACK GIRL MAGIC TEARS* https://t.co/QH7Jonsw5W

— Ashley C. Ford (@iSmashFizzle) December 20, 2015
I assume the people mad that Hermione is black are equally outraged about all the times white actors played Othello.

— Sam Adams (@SamuelAAdams) December 21, 2015
If you think they're mad now, just wait until they figure out Hermione is a girl.

— Norm Wilner (@normwilner) December 21, 2015
Also: casting isn't illustration. Whether if Hermione were white in the books or not, actors can play anything. Literalism is anti-art.

— James Poniewozik (@poniewozik) December 21, 2015
Irony of the Hermione casting furor is that prejudice and ideas of "purity" are essential to the character's story. pic.twitter.com/Xdxm3g5Zcq

— James Poniewozik (@poniewozik) December 21, 2015
?Ebony & Ivory live together in perfect Hermione?

— Kathy Burke (@KathyBurke) December 21, 2015
[h/t Telegraph]
[Image via screengrab]
— —
>> Follow Andrew Husband (@AndrewHusband) on Twitter
Have a tip we should know? [email protected]