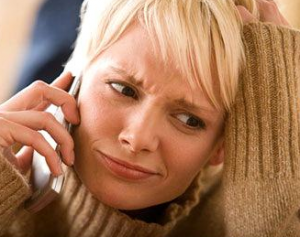 A few days ago, the New York Times published a story (which we picked up, taking special note of the article's reference to a popular Shakespeare quote) about censorship in China, alleging that saying the word "protest" twice during a cell phone call – in either English or Chinese – would result in that call being dropped.
Shanghai Scrap ("Observations on Asia and the world by Adam Minter, an American writer in Shanghai.") decided to put the article to the test. Minter helpfully recorded his methods:
METHODS: The staff prepared three phrases. A) Queen Gertrude's response to Hamlet, "The lady doth protest too much, methinks;" b) "I like Bob Dylan's protest songs, the most;" and c) "PROTEST PROTEST PROTEST!" The staff also prepared a list of five individuals with phones in China. They are a) a foreign Shanghai entrepreneur; b) a Shanghai school teacher; c) a Beijing-based foreign correspondent; d) a Beijing-based scrap metal entrepreneur; e) a Foshan-based scrap metal entrepreneur. Each individual was called from a Shanghai phone line, and asked to listen to the three phrases, repeated twice.
The results? The calls were not dropped, and several people in China who decided to answer calls at the exact wrong time were left incredibly confused, with one Shanghai-based teacher asking, poignantly, "Are you drunk?"
The NYT story, like many newspaper stories, was the result of a group effort, with contributions from Jonathan Ansfield, a reporter out in Beijing.
After Tweeting about their phone call experiment, Shanghai Scrap was alerted to the fact that Ansfield had Re-Tweeted two Tweets, including one of its own, casting doubt on the claims made in the NYT article. Later, someone writing under the name "Jonathan" offered this comment on Shanghai Scrap's post on the matter:
for the record, the contributing reporter's own tests comport with yours. regrettably his input on the story made little difference.
Interesting.
Have a tip we should know? tips@mediaite.com