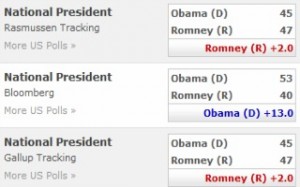 The pollster behind Bloomberg's surprising new survey which showed President Barack Obama leading former Massachusetts Gov. Mitt Romney by a commanding 13 point lead went on the defensive on Wednesday. The pollster's principal has gone on a mini-press blitz to defend the results of their most recent survey – but no amount of press can answer the legitimate questions raised about this poll's results which are strikingly contradictory to what every other pollster is finding.

RELATED: Bloomberg Poll: President Leads Romney By 13 Points, Near Majority Say They Are Better Off Under Obama
Bloomberg hired the respected, Des Moines-based pollster Selzer & Co. to perform their most recent survey. But the pollster found a result that even the most liberal observers have called an outlier.
Politico's Maggie Haberman posted a question and answer session Wednesday with Selzer & Co. pollster Ann Selzer who defended her firm's results.
Polls are variable. Things will change. We didn't have any red flag in here that said we have a bad poll. We have a surprising poll. June has been a bad month. For Romney.
Haberman writes that the Bloomberg poll proves that "voters appear to be able to separate out their feelings about Obama from their feelings about a broken Washington political system – which is basically the messaging Chicago has been going for."
So what explains the Selzer & Co. numbers? Well, for starters, Gallup (and, to a lesser extent Rasmussen Reports) have recently come under criticism for models that under sample minorities. This could be a condition which Bloomberg's poll does not suffer from.
The Huffington Post's Mark Blumenthal and the Weekly Standard's Jay Cost recently engaged in a back and forth over what they identify as some of the problems with major pollsters sampling and modeling approaches – particularly when it comes to including minority voters in their surveys.
Another problem that pollsters encounter (beyond including cellphone only households into their sample – which most reputable pollsters addressed and/or corrected for years ago) is the problem of weekend surveys.
The Bloomberg poll was one such survey that was in the field from Friday of last week to Monday of this week.
Pollsters who take the national temperature must also be careful to not oversample voters in traditionally population-heavy states like New York or California. While they will come up with an accurate sample of public opinion, they will not prove who will win the election as they discount the Electoral College which mutes the impact of population centers and increases the influence of smaller states.
But none of these factors truly account for the Bloomberg poll's wildly divergent results.
Even President Obama's most ardent supporters do not believe that the White House has been able to shift the electorate from a 47/47 split in March to a 53/40 pro-Obama rout today.
Odder still, in a month when the Federal Reserve shows that American's have lost nearly 40 percent of their household value since 2009, Bloomberg finds that 45 percent of respondents believe their lives have improved in that same period. This just does not compute.
Perhaps the most credible reason for the Bloomberg poll's divergence from the mean of head-to-head match ups is the sample breakdown in this survey compared to Bloomberg's March poll.
While the June survey identifies as its sample a 38/33 Democrat/Republican split (with leaning independents lumped into either the Democrat or Republican groups), Bloomberg's March poll did not release their sample data. That poll did, however, ask their respondents their preference in generic Congressional candidate which came down to a 46/44 lead for Republican candidates. This suggests that Bloomberg poll from March, which was also conducted by Selzer & Co., dramatically altered their sampling methodology for this June poll.
All this having been said, I'm not prepared to indict the Bloomberg poll outright. Sometimes pollster simply find outlier results even after applying the most rigorous of scientific standards to their polling methods. What is clear though, given the closeness of the election as measured by every other pollster, this result just does not jibe with reality. Even Selzer, I suspect, would admit that her findings are at odds with those of her equally reputable peers.
Like any survey of the presidential race at this stage, take it worth a grain of salt. If a trend emerges with multiple pollsters beginning to show President Obama breaking out of the box – the Romney campaign should certainly get scared. Until then, they would be well advised to leave the emergency glass encasing the panic button intact.
> >Follow Noah Rothman (@Noah_C_Rothman) on Twitter
Have a tip we should know? tips@mediaite.com