Bob Dylan Tries Hand At Political Prediction Game, Calls 'Landslide' Win For Obama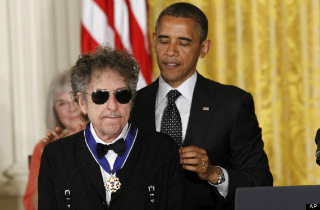 During a performance last night on his "Never Ending Tour," legendary musician Bob Dylan tried his hand at political soothsaying, predicting a "landslide" victory for President Barack Obama.
Dylan made the prediction Monday night while performing the song "Blowin' in the Wind" during a concert at the Alliant Energy Center in Madison, Wisc.
Earlier in the day, President Obama appeared at a rally in Madison with another legendary songwriter in Bruce Springsteen. "We tried to play good tonight since the president was here today," Dylan reportedly told his audience.
"Don't believe the media. I think it's going to be a landslide," he continued, before completing the song and finishing up the encore segment of the concert.
Perhaps Dylan has been reading a lot of Nate Silver with that sort of disdain for the punditocracy's "media narrative" and a confident pick of a landslide for the president.
Some detractors will likely say this is just another hippie liberal musician cheering on President Obama, but if you recall back in September, Rolling Stone tried and failed miserably to get the 71-year-old legend to profess his adoration for the president and deem his critics "racist." Calling the race for the president does not equal being "in the tank" for that candidate. Heck, I'm no fan of President Obama's (or Romney's) but I am fairly certain the president will come away victorious (though not by a landslide).
Then again, it's really not worth trying to make sense of what Dylan says, seeing as he is likely the most inscrutable figure in all of popular culture.
Anyway. Consider this yet another phase in Dylan's ever-morphing chameleon ways: folkie, poet, druggie, hipster, country musician, father, gypsy, divorcée, evangelical Christian, Zionist, leather-clad 80s rocker, Oscar winner, Grammy winner, memoirist, Santa Claus, Medal of Freedom winner, and… political pundit.
— —
>> Follow Andrew Kirell (@AndrewKirell) on Twitter
Have a tip we should know? [email protected]