Boy Scouts Apologize to Anyone 'Offended by the Political Rhetoric' in Trump Speech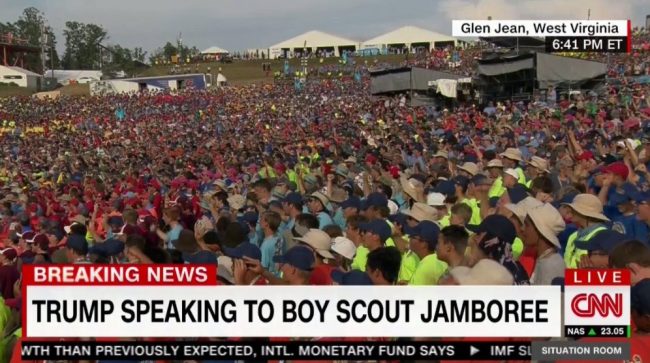 The Boy Scouts of America came out with an apology for the speech President Trump gave while visiting their national jamboree earlier this week.
Chief Scout Executive Michael Surbaugh wrote the apology and wanted to apologize for political agenda that Trump brought to the camp.
"I want to extend my sincere apologies to those in our Scouting family who were offended by the political rhetoric that was inserted into the jamboree. That was never our intent," Surbaugh wrote.
He went on the explain the longstanding tradition of inviting the sitting president to speak at their jamboree, a tradition they've held since 1937 without taking political sides.
"It is in no way an endorsement of any person, party or policies," Surbaugh wrote. "For years, people have called upon us to take a position on political issues, and we have steadfastly remained non-partisan and refused to comment on political matters. We sincerely regret that politics were inserted into the Scouting program."
Surbaugh closed out the letter by saying despite the politically divided times, the scouts stick to focusing on "trustworthiness, loyalty, kindness and bravery," and encouraging them to be "active citizens, to participate in their government."
Trump visited the scout's jamboree on Monday and gave a politically charged speech that was widely criticized. He brought up the health care vote and getting rid of Obamacare, criticized "fake news," and celebrated the night he beat Hillary Clinton while bashing her. The most highly criticized part of the speech was when Trump talked about Obamacare and his plans to get rid of it, and the Boy Scouts responded by chanting "USA! USA! USA!"
[image via screengrab]
Have a tip we should know? tips@mediaite.com