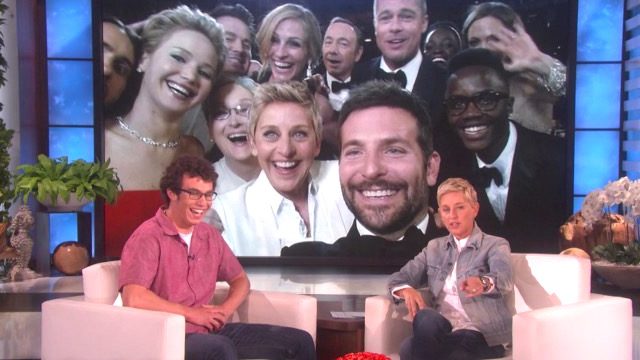 The day has come. Ellen DeGeneres has been dethroned as the queen of Twitter. And, she's been dethroned by someone who, until he decided to tweet at the Wendy's account, had about 150 followers.
As of 9:39 A.M. EST on May 9, the count stood at 3,430,270 for Carter Wilkerson to 3,430,243 for Ellen.
In case you haven't been following, here's how the story goes: Carter Wilkerson Tweeted at the famously sassy Wendy's asking how many retweets it would take him to get free chicken nuggets for an entire year. The fast food restaurant replied that the magic number was 18 million. Wilkerson said, "Consider it done," and pleaded with the Internet for help:
HELP ME PLEASE. A MAN NEEDS HIS NUGGS pic.twitter.com/4SrfHmEMo3

— Carter Wilkerson (@carterjwm) April 6, 2017
If only Bradley's arm was longer. Best photo ever. #oscars pic.twitter.com/C9U5NOtGap

— Ellen DeGeneres (@TheEllenShow) March 3, 2014
The Internet came through for Wilkerson big time. In less than a week, Wilkerson had racked up 2.5 million retweets, which is not close to the 18 million he needs, but was very close to overtaking Ellen DeGeneres's Oscars selfie, which at that time held the record with 3.2 million retweets.
She noticed, and decided to take action in the form of a PSA with Bradley Cooper, who took, and was in the selfie. They asked everyone to retweet Wilkerson so that he could possibly reach his goal, but also to retweet their tweet so that they wouldn't lose their title.
Then, she invited Wilkerson on her show to call a truce of sorts. In exchange for his asking his retweeters to retweet the Oscars selfie, she gave him a big screen TV, a year's supply of Ellen underwear, and a warning. If Wilkerson's tweet surpassed hers, she'd come to his house and take back the gifts, and more, though she didn't specify what that would be.
Twitter users had a different idea, By April 26th, Wilkerson was only about 140,000 tweets behind DeGeneres. Both tweets were, and are, still garnering retweets, but Wilkerson's moved up much faster.
His tweet doesn't feature the likes of Meryl Streep, Jennifer Lawrence, Brad Pitt, and Julia Roberts. It's literally just about chicken nuggets. And, while it's not what Wendy's originally asked for, they'll be giving Wilkerson the nuggets anyway. He's earned it. Plus, they're going to donate $100,000 to the Dave Thomas Foundation for Adoption.
Nicely done, Carter.
[featured image via screen grab]
Have a tip we should know? tips@mediaite.com