Breitbart's Milo Yiannopolous Crashes WH Press Briefing, Asks About Twitter Censorship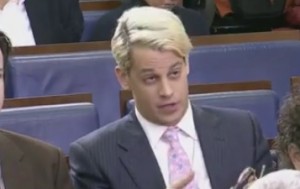 Breitbart London's Milo Yiannopolous showed up to Friday's White House press briefing, asking press secretary Josh Earnest about the rise of politically motivated censorship on online platforms like Twitter and Facebook.
Yiannopolous began by quoting Reddit founder Aaron Schwartz, who argued that the importance of free speech also extended to social media sites, and brought up Obama's previous statements denouncing university safe spaces and the coddling of college students.
"It's becoming very clear that Twitter and Facebook in particular are censoring and punishing conservative and libertarian points of view…" he argued. "Is there anything the president can do to encourage Silicon Valley to remind them of the critical importance of open free speech in our society?"
Earnest responded that the president believed the success of companies like Twitter and Facebook were "predicated on the idea of freedom of expression… they give people an opportunity to express themselves in ways that we didn't previously even imagined."
"You obviously can't enforce the First Amendment on private corporations," Yiannopolous allowed. "But there seems to be a very clear trend My verification check was taken away for making fun of the wrong group of people. Conservative commentators and journalists are being punished, being suspended, having their tweets deleted by Twitter. Facebook is removing criticism of immigration in Europe."
"Are there any mechanisms the government can use to remind these companies that they have this responsibility, or do we just have to trust the market will punish them if they don't?" he asked.
Earnest responded by saying he wasn't sure there was a government policy that could help, but mentioned the court system as one way to rectify wrongs. "If there are private citizens who feel their constitutional rights are being violated in some way, they do have an opportunity to address that before a judge in a court of law. That should be the way our system works."
Watch above, via the White House.
[Image via screengrab]
——
>>Follow Alex Griswold (@HashtagGriswold) on Twitter
Have a tip we should know? tips@mediaite.com