Caitlyn Jenner Comments on Trump's Trans Rollback: 'This is a Disaster, and You Can Still Fix It'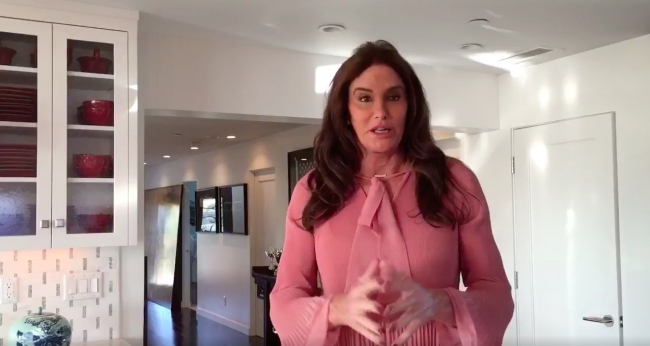 After maintaining her silence for the last day and a half regarding President Trump's rollback of transgender student protections, Caitlyn Jenner finally spoke out late Thursday evening.
Taking her commentary to Twitter, Jenner posted this brief video:
Well @realDonaldTrump, from one Republican to another, this is a disaster. You made a promise to protect the LGBTQ community. Call me. pic.twitter.com/XwYe0LNUOq

— Caitlyn Jenner (@Caitlyn_Jenner) February 24, 2017
She took a moment to address the transgender children affected by the recent rollback. "You're winning," she said, "I know it doesn't feel like it today or everyday, but you're winning." She promised that, soon, the trans community would see freedom nationwide.
Her attention quickly turned to the bullies of transgender kids. "You're sick," she commented, adding, "apparently even becoming the Attorney General isn't enough to cure some people of their insecurities." The barb, obviously directed at Attorney General Jeff Sessions, was nailed home by her referring to the upcoming Title 9 case made possible in part by "a very brave young man, Gavin Grimm." She leveled, "Mr. President, we'll see you in court."
And then she turned her commentary towards POTUS himself. "From one Republican to another, this is a disaster, and you can still fix it," she reasoned, looking directly into the camera. "You made a promise to protect the LGBTQ community," she reasoned, ending with, "Call me."
Jenner has a bit of a history with Trump. This past April, after Trump said that he felt transgender people should use whichever bathroom corresponds with their gender identity, Jenner took him up on the offer while at Trump Tower for the Time 100 Gala. More recently, Jenner attended President Trump's inaugural ball, with rumors flying at the time that the president would possibly share a dance with the I Am Cait star. (The two did not end up sharing a dance.)
[image via screenshot]
Have a tip we should know? [email protected]