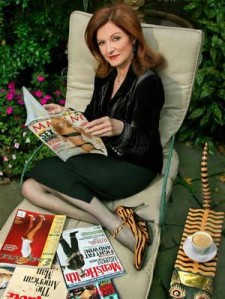 We are late to this but it's worth a mention, mostly because it's hard not to conclude there are two editorial standards at the New York Times: one for Maureen Dowd and one for everyone else.
You may recall how in May, MoDo made headlines when she "accidentally" included a paragraph by Talking Points Memo's Josh Marshall into her column. MoDo later clarified that a friend had suggested "I make this point, expressing it in a cogent — and I assumed spontaneous — way." This is how the column was appended:
Correction: May 18, 2009
Maureen Dowd's column on Sunday, about torture, failed to attribute a paragraph about the timeline for prisoner abuse to Josh Marshall's blog at Talking Points Memo.
Cut to this morning when the ever-vigilant folks at NYTPicker caught a lengthy editor's note regarding a Times Magazine piece, which puts "freelance writer Charles Siebert out to dry for appropriating a handful of descriptive words from a source's email in his 7,498-word account of the way whales may be communicating with humans. Sunday Magazine cover story on whales."
The cover article of The Times Magazine on Sunday reported on whales and the possibility of interspecies communication between them and humans. The final two paragraphs of the article described an occasion in 2005 when a humpback whale became entangled in crab-trap ropes and was freed by a rescue team. Some of the language in the retelling of that event was identical to descriptions of the rescue in an e-mail message that circulated widely after the incident. Specifically, the lines that the whale swam "in joyous circles" after it was freed and "nudged" the divers gently, "as if in thanks"; that the divers thought it was "the most beautiful experience they ever had"; and that one diver said he would "never be the same" appeared in the e-mail message, which was sent to The Times's writer, Charles Siebert, in the course of his reporting. In seeking to confirm the accuracy of the article, Mr. Siebert read several accounts of the episode, including one published by The San Francisco Chronicle in December 2005 on which he based his retelling.

Mr. Siebert said that he unwittingly incorporated some of the phrasing from the e-mail message that he had been sent earlier. The Times does not allow writers to replicate language without attribution, and had the editors known of these repetitions, they would not have published the passage in that form.
Sensing a difference in the tone and amount of attention paid to these "unwitting incorporations" and failures to attribute? The more important question, of course, and the one the Times really needs to address is where the difference in these offenses lies. Calling Clark Hoyt! Gawker says they have contacted the Times regarding just this disparity, but has yet to hear back. Interestingly Gawker also seems to be taking the side of Siebert in this instance. This from John Cook:
We can understand how Siebert could either cut and paste something into his story with the intention of chopping it up into quotes and later forgetting to attribute it, or write something that he thought was his own synthesis of various sources but actually included phraseology bouncing around in his head that he didn't know at the time was a direct quote from one of those sources.
It's less understandable, perhaps, in a bi-weekly 750 word column.
Have a tip we should know? tips@mediaite.com