Carrie Fisher's Daughter Billie Lourd Breaks Silence on Her Mother and Grandmother's Death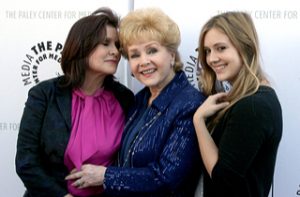 On Monday afternoon, Billie Lourd, the daughter of Carrie Fisher and granddaughter of Debbie Reynolds, issued a public statement for the first time since her mother and grandmother died last week. The comments were part of an Instagram post featuring a photo of the three together Lpourd was a toddler:
"Receiving all of your prayers and kind words over the past week has given me strength during a time I thought strength could not exist," she wrote. "There are no words to express how much I will miss my Abadaba and my one and only Momby. Your love and support means the world to me."
Fisher passed away last Tuesday after suffering what is believed to be a heart attack four days earlier. Reynolds, already in ill health, succumbed to a stroke the day after her daughter died. The timing has led to widespread media speculation about the existence of "broken heart syndrome" and whether or not it contributed to Reynolds' death, with even the New York Times joining in.
"Bright Lights," a documentary about the family, which had been screened at film festivals starting last May, will make its television premiere on HBO this coming Saturday night, January 7th, at 8:00 p.m. Jezebel reported that until HBO announced the premiere date on Friday, there had been no set date for the film to make its debut on the premium cable network.
[Photo: Shutterstock]
Have a tip we should know? [email protected]
---