Charlie Sykes: Conservative Media's 'Hair Would've Been on Fire' if Obama Equated US With Russia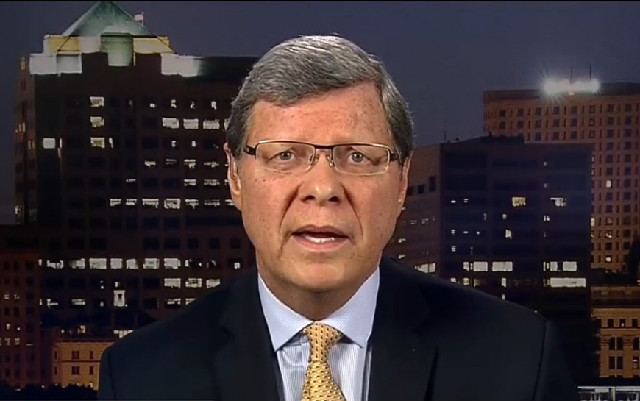 One of the more notable members of the #NeverTrump conservative movement joined Mediaite columnist John Ziegler on Ziegler's podcast over the weekend to discuss a number of subjects. During the nearly hour-long conversation, former radio host Charlie Sykes and Ziegler touched on quite a few fascinating issues as it relates to conservative media, such as how talk radio hosts flocked to Donald Trump during the campaign, how fake the industry really is, and how the audience really isn't as smart as they thought.
At one point in the discussion, Sykes — who ended his conservative radio show in December — and Ziegler talked about how conservative media would have reacted to the recent comments made by Trump in which he defended Russian President Vladimir Putin by saying America is full of killers and not so innocent if President Obama had been the one to say that.
"If Barack Obama in an interview with a sympathetic interviewer before the Super Bowl had ever the United States with Russia," Ziegler noted. "And mitigated Putin being a murderer and saying the United States isn't that innocent either. If Obama had ever said that before the Super Bowl, what would have been the reaction from the conservative media — specifically talk radio?"
"Oh, their hair would've been on fire," Sykes exclaimed. "I'm just fascinated by the way, John, to hear the eloquent ways that Rush Limbaugh is going to rationalize that tomorrow." (Interestingly enough, Ziegler's first hour guest, The Hill's Kristin Tate, said Trump fans don't care about hypocrisy on the Russian issue.)
Sykes also remarked that we now will get to see what state-run media looks like considering how quickly conservative commentators and hosts got in line behind Trump.
Listen to the entire conversation above (the bit about Obama/Russia is around the 24 minute mark).
[image via screengrab]
–
Follow Justin Baragona on Twitter: @justinbaragona
Have a tip we should know? tips@mediaite.com