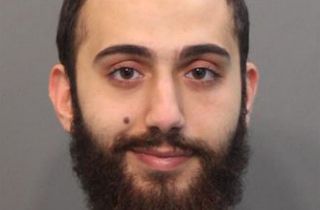 The media has been asking lots of questions today on the potential reasons for why Muhammad Youssef Abdulazeez attacked two military facilities, leaving four U.S. Marines dead in Chattanooga, Tennessee.
Abdulazeez was a Muslim, but despite speculation, there has not been any definite proof or testimony yet that he had any extremist leanings or any connections to ISIS. A report from The Daily Beast, however, says that Abdulazeez kept a blog where he wrote two posts on July 13––just days ago––about his thoughts on Islam.
The first post was reportedly called "A Prison Called Dunya," and he wrote about how Muslim life was temporary experience that was meant to "separate the inhabitants of Paradise from the inhabitants of Hellfire."
"I would imagine that any sane person would devote their time to mastering the information on the study guide and stay patient with their studies, only giving time for the other things around to keep themselves focused on passing the exam," Abdulazeez wrote, describing a hypothetical prisoner.
"They would do this because they know and have been told that they will be rewarded with pleasures that they have never seen."
In the second post, called "Understanding Islam: The Story of the Three Blind Men," Muslims were described as having an innate understanding of Islamic faith, even if it cannot be expressed or understood by conventional descriptions.
Update- 10:50 P.M. EST: Reuters reported that the SITE Intelligence Group, which monitors extremist activity on social media, said that Abdulazeez wrote in his blog about how "life is short and bitter" and Muslims should not miss an opportunity to "submit to Allah." Reuters said that they could not verify the postings independently, but said that Abdulazeez went on to discuss the sacrifice of the Sahaba (companions of the Prophet), and how they "fought Jihad for the sake of Allah."
[image via screengrab]
Have a tip we should know? tips@mediaite.com