Chelsea Manning Will Receive Gender Transition Surgery, Finally End Hunger Strike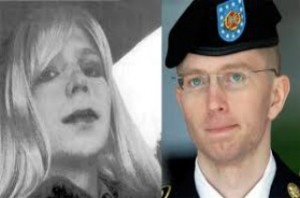 Just days after announcing that she would take part in a hunger strike in defiance of her treatment at the U.S. Disciplinary Barracks at Fort Leavenworth, Chelsea Manning is bringing her strike to an end. She is, after all, getting what she has been requesting: gender transition surgery.
Hey lawyers cited a lack of treatment for her gender dysmorphia as the prime reason for the hunger strike, which she stated in a letter on Friday demanding "dignity and respect."
The American Civil Liberties Union (ACLU), representing Manning, released a statement on behalf of the 28-year-old Army private that read in part, "I am unendingly relieved that the military is finally doing the right thing. I applaud them for that. This is all that I wanted — for them to let me be me."
Manning violated the Espionage Act in July 2013 by releasing hundreds of thousands of military documents to Wikileaks. One of the most high profile videos released to the public via the Wikileaks/Manning dump was Collateral Murder, a 39-minute unedited video that vividly detailed American airstrikes in Baghdad in 2007.
Manning — who went by the first name Bradley at the time of the document release as well as her prosecution — is serving a 35 year sentence. In July she attempted to commit suicide, an act that could lead to additional charges by the military.
Chase Strangio, an ACLU attorney, released Manning's statement that continued, "[W]hy were such drastic measures needed? The surgery was recommended back in April 2016. The recommendations for my hair length were back in 2014. In any case, I hope this sets a precedent for the thousands of trans people behind me hoping they will be given the treatment they need."
—
[h/t Reuters]
Have a tip we should know? tips@mediaite.com