Leaked Emails Show Colin Powell Called Trump a 'National Disgrace and an International Pariah'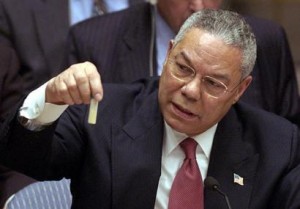 Tell us how you really feel, General!
Well, to be fair, General Colin Powell's sentiments weren't exactly meant for us; they were hacked and released onto the website DCLeaks, but they reveal the former Secretary of State's true thoughts about Republican party nominee Donald Trump.
Powell, who served under President George W. Bush, referred to Trump as a "national disgrace and an international pariah," in one email; he also detailed how Trump's so-called "birther movement" — the long-running conspiratorial witchhunt to prove President Barack Obama was born outside the United States — was "racist."
Several of Powell's emails were stolen from his personal Gmail account as part of the hack; he wrote in one exchange:
"There is nothing [Trump] can say that will sway black VOTERS…He takes us for idiots. He can never overcome what he tried to do to Obama with his search for the birth certificate…the whole birther movement was racist…And for him to say yesterday that within four years he would have 95% of blacks voting for him is schizo fantasy."
MSNBC reported that this latest email leak is "rumored" to have ties to Russian intelligence.
"Yup, the whole birther movement was racist," Powell continued. "That's what the 99% believe. When Trump couldn't keep that up he said he also wanted to see if the certificate noted that he was a Muslim."
Buzzfeed News was the first media outlet to report on the contents of Powell's personal emails.
However, Donald Trump is not the only target of Powell's emails; even Democratic party nominee Hillary Clinton is implicated. He wrote sharply in one email:
"Sad thing IS that HRC could have killed this two years ago by merely telling everyone honestly what she had done and not tie me into it. I told her staff three times not to try that gambit. I had to throw a mini tantrum at a Hampton's party to get their attention."
In one more brutal assessment, Powell directly asserts, "[E]verything HRC touches she kind of screws up with hubris."
—
[h/t Buzzfeed News]
[image via Wikipedia Commons]
Have a tip we should know? tips@mediaite.com