Chicago Authorities Release New Video Showing Officers Shooting Unarmed Black Teen (UPDATED)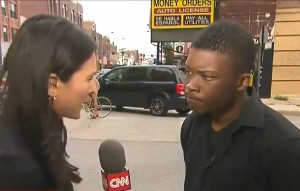 CNN reports that police nationwide are being warned that there could be backlash following the release on Friday of a graphic video that shows Chicago PD shooting an unarmed black teenager on Jul. 28.
Chicago authorities released several videos from multiple body-cams, showing what CNN's Rosa Flores described as "very intense and very shocking" images of 18-year-old Paul O'Neal being killed by police.
"You see police officers drawing their weapons, firing their weapons multiple times in the middle of a neighborhood in broad daylight, so that's very shocking," Flores said, describing video of cops firing their guns at a black Jaguar, where O'Neal was.
"We don't see the fatal shot," Flores added. "That is not caught on video, is what we're told by authorities, and we have not seen that on video." She noted that the moment of the fatal shot was not caught because the officer's body-cam was not functioning, police said.
Flores described videos from dash- and body-cams showing the black Jaguar was approaching the police officers as they fired their weapons. CNN did not air the videos on Friday afternoon.
Ja'Mal Green, a spokesman for the O'Neal family, told Flores, "We asked for body cameras, and we got body cameras. But when they shoot us, the body cameras aren't working."
UPDATE — 2:55 p.m.ET: The videos have been made public. The one below, via NY Daily News, is spliced together from multiple cams.
They show officers shooting at the reportedly stolen vehicle and then handcuffing O'Neal after he has been mortally wounded. "They shot at us too, right?" one officer asks.
The three officers seen in the video have been stripped of their authority, according to Police Superintendent Eddie Johnson, who said that the men appeared to have violated department policies.
"There is no question in my mind that criminal acts were committed," Michael Oppenheimer, a lawyer for the O'Neal family, told the Chicago Tribune. "What I saw was pretty cold-blooded."
The Tribune reports:
Chicago police officers tried to stop O'Neal about 7:30 p.m. July 28 in the South Shore neighborhood as he drove a Jaguar convertible reported stolen in Bolingbrook, police said. Surveillance cameras tied O'Neal and three others to a spree of car thefts, officials in the suburb said.

O'Neal struck two Chicago police vehicles in the sports car, and two officers fired at him while he was in the car, authorities said. O'Neal fled from the car, police said, and a third officer chased him behind a home. After O'Neal refused to stop, the officer shot him.

O'Neal, who was unarmed, died of a gunshot wound to the back, authorities said.
Caution: The video contains graphic language and violence.
—
[image via screengrab]
Sam Reisman (@thericeman) is a staff editor at Mediaite.
Have a tip we should know? tips@mediaite.com