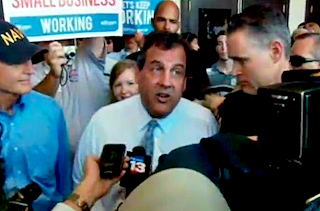 New Jersey Governor Chris Christie pushed back Monday afternoon against the characterization of his decision to release nurse Kaci Hickox from quarantine as a "reversal" from his previous policy.
"I didn't reverse my decision," Christie snapped at a reporter at a campaign stop for Florida Governor Rick Scott. "Why are you saying I reversed my decision? If she was continuing to be ill she'd have to stay. She hadn't had any symptoms for 24 hours. And she tested negative for Ebola. So there was no reason to keep her."
RELATED: Let the Smearing of 'Left Wing' Quarantined Nurse Kaci Hickox Begin
"The reason she was put into the hospital in the first place was because she was running a high fever and was symptomatic. If you live in New Jersey, we will quarantine you in your home. That was always the policy. If you live outside the state and you are symptomatic, we're not letting you go onto public transportation. It makes no common sense."
Christie again referred to to Hickox as "obviously ill," which had thoroughly pissed Hickox off.
"She took great offense at everything I did," Christie said, adding, "My job is not to represent her. My job is to represent the people of New Jersey."
Christie also denied that New York Governor Andrew Cuomo "eased" the quarantine restrictions Monday, saying the mandatory quarantine procedures in place Monday were the same as those announced Sunday.
Watch the clip below, via NBC News:
[h/t New York Times]
[Image via screengrab]
——
>> Follow Evan McMurry (@evanmcmurry) on Twitter
Have a tip we should know? tips@mediaite.com