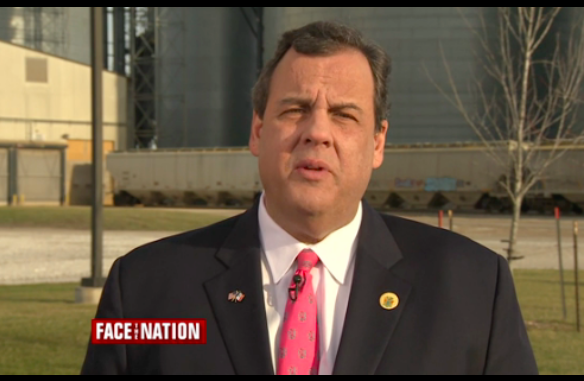 Chris Christie blasted the New York Times editorial board Sunday, telling CBS's Face the Nation that the paper's recent op-ed advocating for tighter gun laws is a 'typical liberal claptrap.'
"The fact is that what we need to be focused on here are two issues." Christie told host John Dickerson. "Taking criminals who commit crimes with handguns and putting them in jail. And we have to work on our mental health system in this country to give doctors and caregivers greater latitude to involuntarily commit folks who have mental health issues and who don't want to take their medication and help themselves."
Christie's comments come after the Times published its first front page op-ed since 1920, lamenting the availability of high-powered assault rifles to the general public. The editorial piece was published in the wake of last week's terror attacks in San Bernardino, CA, where two assailants used semi-automatic handguns and assault rifles in a rampage that killed 14 people.
The newspaper previously published a staff editorial calling for Christie to drop out of the 2016 presidential race.
"Remember: the president and the secretary, before they even knew what was going on here, ran out on the first moments after this attack and said this was a gun control issue," Christie said, adding no gun control laws "are going to stop terrorists from attacking us."
"This is the typical liberal approach to things… They wanted to try to turn this awful tragedy into an excuse to have greater gun control," he added.
Watch the video above, via CBS News.
[Image via screengrab]
—
>> Follow Elizabeth Preza on Twitter (@lizacisms)
Have a tip we should know? tips@mediaite.com