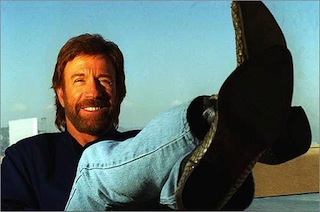 Yesterday, actor, columnist, and friendly self-parody Chuck Norris wrote a column accusing President Obama of secretly conspiring to "create a pro-gay Boy Scouts of America." Writing for AmmoLand.com, an outlet I admittedly know nothing about other than that it sounds like the perfect place to write a column accusing a President of secretly conspiring to "create a pro-gay Boy Scouts of America," Norris discusses Ernst & Young CEO James Turley's recent claims that, as a high ranking BSA board member, he would "work from within" to try and eliminate the organization's ban on gays. Norris theorizes that Turley's comments were actually made on behalf of the President.
Since Obama doesn't have the ability to magically transform such things himself (like, say, magically transforming into a bear), Norris suggested that the White House used "perks and favors" to "prod" Turley.
From AmmoLand:
"Is it a coincidence that Turley came out swinging against the BSA's century-old policy to ban gays from leadership and that he has such close affiliations with the pro-gay Obama administration?

Is it a coincidence that Turley and his wife, Lynne, were just guests at a state dinner hosted by President

Barack Obama and first lady Michelle Obama in honor of British Prime Minister David Cameron at the White House on March 14?

Is it a coincidence that Turley was nominated to President Obama's Export Council in 2010?

…

Is it a coincidence that a couple of months ago, Obama reversed his position on marriage, extending the union to gay couples, and that Turley just came out of the closet in his position against the BSA's position?"
Norris' editorial has caught the attention of GLAAD who pointed out that, even if Obama were pulling all the strings (tied in wonderful, Boy Scout-approved knots, I hope), he's not the only 2012 candidate in favor of lifting the ban.
From GLAAD spokesperson Rich Ferraro:
"Chuck Norris should talk to Mitt Romney, who Norris endorsed for President and who has said on the record that all Americans should be able to participate in the Boy Scouts of America regardless of sexual orientation. Hundreds of thousands of Americans have recently signed a Change.org petition and called on an end to the ban including celebrities Josh Hutcherson, Benicio del Toro, Julianne Moore, Joshua Jackson, Kat Graham and Dianna Agron. Celebrities who support gay Americans are enjoying popular careers while Chuck Norris appears to be a fame-hungry has-been with poor research skills."
The Romney quotes in question come from an answer he gave in a 1994 Massachusetts debate. You can watch that answer below. It's amusing and dated. Just like those random Chuck Norris clips we all love so much.
Have a tip we should know? tips@mediaite.com