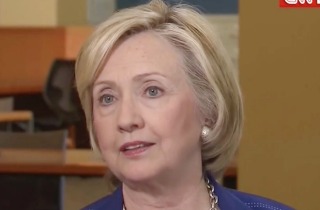 Hillary Clinton's email scandal took a turn for the worse last night when the FBI confiscated thumb drives from her private server, which had four emails containing top secret information. Clinton's campaign team emailed a statement to their supporters this morning, insisting that despite whatever anyone says, there's nothing to see here.
"You might hear some news over the next few days about Hillary Clinton's emails," wrote communications director Jennifer Palemieri "This kind of nonsense comes with the territory of running for president. We know it, Hillary knows it, and we expect it to continue from now until Election Day."
Palemieri went on to explain how the statement would give Clinton's side of things, and that it will cut through the "misinformation" to allow people to "absorb the real story." Palmieri repeated Clinton's familiar talking points, saying that Clinton's use of a private email did not violate federal regulations, while accusing her 2016 rivals of having done the same:
Jeb Bush owned his own private server and his staff decided which emails he turned over as work-related from his private account. Bobby Jindal went a step further, using private email to communicate with his immediate staff but refusing to release his work-related emails. Scott Walker and Rick Perry had email issues themselves.
The talking points also went after Trey Gowdy, saying that the chairman of the House Select Committee on Benghazi was leading a personal "witch-hunt" against Clinton to damage her chances.
"It is important to remember that the committee was formed to focus on learning lessons from Benghazi to help prevent future tragedies at our embassies and consulates around the globe," the statement read. "Instead, the committee, led by Republican Representative Trey Gowdy, is spending nearly $6 million in taxpayer money to conduct a partisan witch-hunt designed to do political damage to Hillary in the run-up to the election."
[h/t Business Insider]
[image via screengrab]
>> Follow Ken Meyer (@KenMeyer91) on Twitter
Have a tip we should know? [email protected]