CNN Breaks Front Page News on Melissa Harris-Perry Kierangate Controversy, Gets It Wrong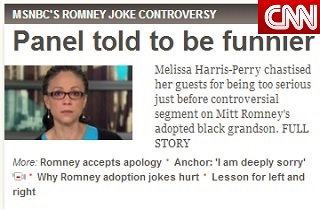 More than a week after the Melissa Harris-Perry segment that sparked a controversy, a raft of apologies, and a gracious acceptance from former Governor Mitt Romney (R-MA), CNN continues to lead the news coverage of this story. While other outlets have produced copious amounts of commentary on the topic, only CNN has treated the comments of a rival network's host as a hard news story, and now they've uncovered more news about the story, news that is now featured on the front page of CNN.com. "Panel told to be funnier" reads the bold headline at the center of the page, with links to CNN's other coverage of the story.
How did CNN reporter Alan Duke dig up the panel's ill-fated marching orders, so long after the segment aired? Was it an internal memo, or perhaps a blind quote from a disgruntled producer? Actually, no, it was from watching this video clip. See if you can spot the news:
That's right, according to CNN, this is front page news:
Los Angeles (CNN) — MSNBC host Melissa Harris-Perry chastised her guests for being too serious just before the controversial segment about former Republican presidential nominee Mitt Romney's adopted black grandson.

…"My comedians are all going to be forced to drink during the commercial so they can get their funny back because they've got real serious about sexism and feminism," the host said.

"We are basically ratings whores," Harris-Perry added.
Whatever your assessment of the news value of this nugget, it turns out to not even be correct. That suggestion from Melissa Harris-Perry occurred at 11:08 am on Sunday, December 29, a full twelve minutes after the Kieran Romney segment had ended.
Have a tip we should know? tips@mediaite.com