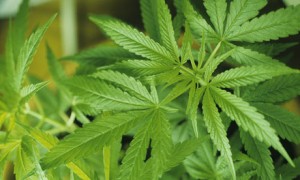 Less than a week — five days, really — after Colorado enthusiastically began the legal sale of marijuana, the state is facing a harrowing shortage of pot.
Citing a report from the Denver Post, TIME estimates that the state's thirty-seven (or more) stores licensed to sell marijuana will likely run out of their supplies sometime this week, with one shop owner predicting that she would run out by today.
However, the cause of this weed run isn't due to the fine, upstanding citizens of Colorado — rather, it's the damn migrant tourists coming into Denver and taking all the ganja. "By most accounts, since Jan. 1 more than half of pot sales have gone to non-Coloradans," TIME reports, referring to these tourists as "smoke birds." (Aw, how cute.)
While this seems to be a classic Econ 101 textbook problem ("Please plot a supply and demand curve calculating how much marijuana the state of Colorado needs to maintain a permanent buzz"), the legalized weed shortage could, paradoxically, boost the sale of illegal marijuana. Many stores have implemented sure pricing due to insane demand, with some stores selling weed at $400/oz, and this has left some former drug dealers plotting:
Once you factor in taxes, as well as the fact that it looks like shops may periodically be sold out for a while, and some are saying the situation is one that could push pot enthusiasts back to buying marijuana on the black market. "People will get real tired of paying the taxes real fast," one street dealer in Pueblo named Tracy told the Chieftain. "When you can buy an ounce from me for $225 to $300, the state adds as much as $90 just for the tax."
And this is where Monsanto begins studying rapid-growth, high-yield GMO weed.
[TIME]
>> Follow Tina Nguyen (@Tina_Nguyen) on Twitter
Have a tip we should know? tips@mediaite.com