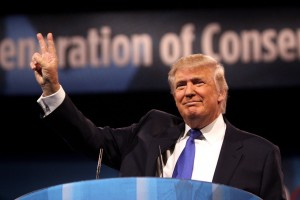 Representatives from CNN, Fox News, NBC, CBS, and ABC united today to rally around a common enemy: Donald Trump.
The networks want Trump to ease restrictions placed on reporterscovering his events, the Washington Post reports.
Over the past few weeks, stories have surfaced that indicate a particularly volatile relationship between Trump and the media. At a rally last Tuesday, a Trump aide threatened to revoke Noah Gray's media credentials after the CNN reporter briefly left the designated press area to cover a #BlackLivesMatter protester. The aide told Noah to "get back in the pen" or risk being "f*cking blacklisted."
At a rally Friday, Trump barred members of the press from covering the event, including reporters from BuzzFeed, The Huffington Post, and Univision. The Trump campaign has banned publications that have strongly criticized the candidate in the past, thus landing the outlets and reporters in "the doghouse" (a term used by campaign manager Corey Lewandowski).
Trump's tricky relationship with the press is not a new phenomenon: this past August, the Republican candidate removed Univision reporter Jorge Ramos from a press conference, telling Ramos to "go back to Univision."
But now, the media is fighting back. The networks hope to draft a response to the Trump campaign requesting that aides stop threatening to revoke media credentials. They also hope to convince the candidate to ease restrictions on the press pool and act respectfully towards reporters in the pen.
[Image via Wikimedia Commons]
—
>> Follow Elizabeth Preza on Twitter (@lizacisms)
Have a tip we should know? tips@mediaite.com