College Officials Bemoan How 'Neo-Nazi' Ben Shapiro's Speech Left Students 'Brutalized'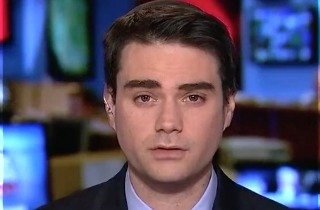 So basically, professors and officials at California State University Los Angeles (CSULA) say that Ben Shapiro's recent speech at their school was so horrible and disturbing that they need to find a way to keep conservative speakers away forever.
Back in February, Shapiro gave a speech at the school entitled "When Diversity Becomes a Problem," wherein he tried to talk about how liberals are intolerant of diverse political views. Shapiro was invited by the school's Young America's Foundation (YAF) chapter, but his event received little support from the university and it was eventually derailed by protestors who pulled the fire alarm.
YAF released a video on Thursday, where one of their members seemed to sneak into a meeting this month that the school's high-ups used as a "healing space" for students who still felt "traumatized" and "brutalized."
"I would have never invited anybody like Ben Shapiro on campus. Never," said CSULA President William Covino. "He was invited by students, he was funded by students, he was supported by students. I would have never invited anybody like Ben Shapiro."
It didn't stop there. Pan-African Studies Professor Melinda Abdullah called Shapiro a "neo-Nazi" for advancing an "anti-blackness," conversation, even as she recognized that she was saying that about a Jewish man.
"I get he's Jewish, so that's ironic that I'm calling him a neo-Nazi," Abdullah said. "That's basically what he is. A neo-KKK member. Let's call him that."
Shapiro spoke about this matter with TheBlaze, telling them the protestors were the brutal ones and that the video "just demonstrates that the Left will slander conservatives without evidence, then use that slander as the basis for censorship."
The Alliance Defending Freedom (ADF) says that CSULA's actions contributed to the mayhem at Shapiro's event, and they've filed a lawsuit against the school for allegedly violating the 1st and 14th Amendment rights of Shapiro and their students.
[Image via screengrab]
— —
>> Follow Ken Meyer (@KenMeyer91) on Twitter
Have a tip we should know? [email protected]