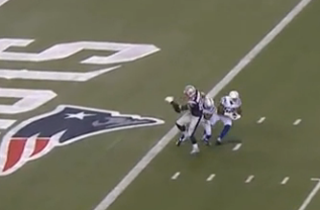 Is it already time to bring an end to DeflateGate and an excuse to talk about balls? With this latest interview from Indianapolis Colts player D'Qwell Jackson, who shed new light on Deflate-Gate, it may be time.
Commentators initially speculated that Jackson, who intercepted a ball thrown to New England Patriots QB Tom Brady during last week's AFC Championship game, noticed something weird about the softer ball and given it to a Colts equipment manager to be inspected. But during a press conference with journalists this morning, the linebacker said he just wanted Brady's ball as a souvenir. (It's not every day you play an AFC Championship game and intercept a ball aimed at Tom Brady, after all.)
"I wouldn't know how that could even be an advantage or a disadvantage," Jackson said, according to NFL.com, adding that he doesn't handle enough balls to know the signs of saggy balls. "I definitely wouldn't be able to tell if one ball had less pressure than another."
But most importantly, he indicated that the Patriots' balls — all of them — were taken out of the game late in the first half, and that they had to play with the Colts' balls:
He recalls, during a television timeout, there was an especially long delay that prompted him to approach an official.

The game official mentioned something about their efforts to locate a usable football. Shortly after, Jackson noticed that the Patriots were using the Colts' footballs late in the first half. Jackson said it was odd to him that New England couldn't find a football to use, especially in the AFC Championship Game.
The Pats went on to score three touchdowns in the second half of the game, and, according to this new report, did it all while throwing the Colts's balls in the air. "It wouldn't have changed the outcome of the game," Jackson said. "They outplayed us. We didn't match their intensity."
While the Colts have been suspicious of the Patriots' saggy balls since November 16, Jackson just really wants Brady's ball back, even more than he wants to talk to Anderson Cooper about Tom Brady's balls:
"I mean, Anderson Cooper asked my agent if I could come on his show," Jackson said. "I'm honored that he wants to talk to me, I guess, but I really just wanted my souvenir from a special accomplishment in my career."
[h/t Deadspin]
[Image via screenshot/CBS]
—
>> Follow Tina Nguyen (@Tina_Nguyen) on Twitter
Have a tip we should know? tips@mediaite.com