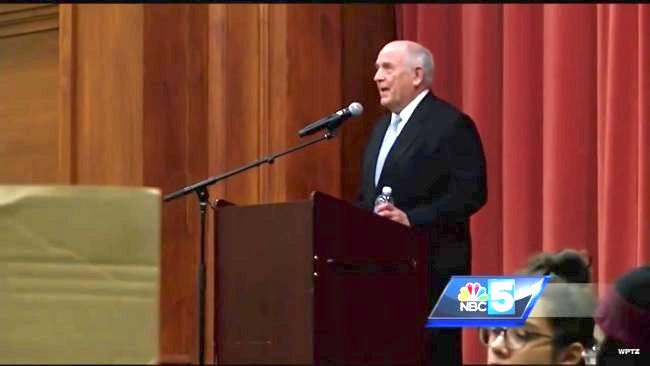 Three weeks after leftist protesters violently shut down Charles Murray's lecture at Middlebury College, students at Columbia University are demanding that the event be changed into "a debate in which Murray could have his ideas challenged and dissected."
On Thursday, Campus Reform spotlighted how the Ivy League school's student newspaper, Columbia Spectator, published an opinion piece from the student group Barnard Columbia Socialists on Wednesday.
The radical leftist students denounced the Murray event, contending that "it is a grave disservice to the Columbia University community and beyond that these student groups (Columbia University College Republicans and the Columbia Political Union) have opted to invite Murray to spew his racist and discredited ideas in an uncontested and staged format."
While they gave the right to free speech some lip service ("We do not believe the University should be asked to arbitrate what hate speech is and isn't"), the socialist activists pushed for "an open discussion period during which students and other members of the community can not only ask questions but also make their own arguments about the impact of Murray's ideas."
Campus Reform's article pointed out that the op-ed was published "just two days before Murray's scheduled appearance." They added that "there has been no indication that the hosts will capitulate to the demand, particularly since the op-ed failed to note that the Columbia AEI Council was the group actually responsible for inviting Murray to campus, and simply had to enlist the help of two more-established student groups because it is still a new organization."
The president of this new student group, Jonathan Schatz-Mizrahi, criticized the ideological climate on Columbia's campus: "Noting that many Columbia students live in an 'elite liberal bubble,' Schatz-Mizrahi expressed hope that Murray's detractors would at least 'engage in a civil and intellectual dialogue.'"
It should be pointed out that conservatives have long faced hostility at the Ivy League institution. In 1998, a conference featuring speakers critical of affirmative action was protested, then shut out of the school. More recently, Columbia College Democrats bought up the tickets to a 2013 event featuring social conservative speakers, and a September 2016 article in The College Fix detailed the hostility that conservative students faced at Columbia.
[image via screengrab]
This is an opinion piece. The views expressed in this article are those of just the author.