Columnist Accuses Audi Of Glorifying Violence In 'Rapey' Super Bowl Ad, Battles Conservatives Who Defend It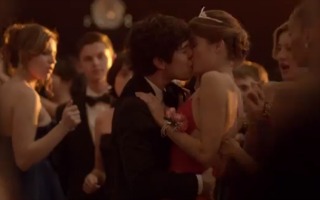 Audi's "Prom" commercial is one of today's most talked about spots after being broadcast during Sunday night's Super Bowl. Was the ad entertaining? Maybe a little. Did it entice a few car buyers? That's a dubious assertion, but it's possible. Was Audi glorifying rape? Unequivocally, absolutely not. That seems pretty obvious to all but the most insular of opinion writers. Enter Joel Mathis, columnist for The Philly Post, who took to the website of his publication to both express his outrage over what he thought was a violent ad. But he didn't stop there – Mathis turned his gripe into a political crusade when he took to Twitter to battle conservatives who preemptively accused the nation's most sensitive culture critics of reading too much into the ad.

Mathis wrote at his blog at the Postthat he thought this ad by Audi was "particularly rapey:"
Mathis explains:
• The young woman who receives the kiss chose to be at prom with someone else.
• Our "hero" forcibly turns her around and jams his mouth to hers almost before she can identify him, and certainly without any permission being sought or given. What's more, this is a demonstration of his new, Audi-fueled power.
• He leaves prom without her—suggesting that she still chooses to be at prom with somebody else.
"It's a commercial," Mathis conceded. "It's supposed to be fun, for dudes at least. Just understand in real life, such behavior is more likely to get you prosecuted than to win you the heart of the prom queen."
Merely acknowledging this fact, an admission that what he is opining on is satirical, would convince the average viewer that they were overreacting. At the very least, his is a debatable conclusion.
But, since his conclusion was self-evidently debatable, Mathis took to Twitter to engage in that debate and seek some form of validation for his own virtuous bias.
Mathis singled out The Transom editor Ben Domenech, who was identifying individuals that he thought were being oversensitive: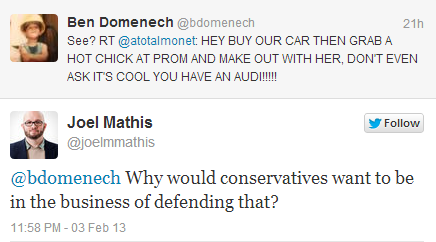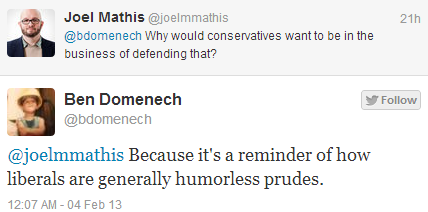 "I'm not a conservative, but I don't know why defending rapey TV commercials has to be thought a conservative value," Mathis wrote. "[C]onservatives hate liberals so much they'd rather find humor in sexual battery than end up agreeing with the left about anything. But boy, it sure seems like conservatism can be better than that, can't it?"
I'm not anti-delight. I am anti-dudes-taking-unasked-for-liberties. And I'm pretty sure I'm right to be.
…Lighten up, Francis.
The politicization of every aspect of American life continues unabated. Everything from art to commercial advertising is subject to the harsh scrutiny of the arbiters of enlightened thought.
Certainly, those "humorless feminists," as Mathis describes himself, have valid concerns about violence in society and the potential of pop-culture to validate those concerns. For others, it's just a commercial that has no bearing on how they interact with their environment.
I'd venture to think that most would not see in this ad a license to engage in assault, while only those with a tenuous grasp on reality would see this commercial as an invitation to forcibly kiss the object of their infatuation. Where progressives go wrong – in so many cases – is to presume that most of society needs to be protected from this message in order to save the mentally imbalanced few any form of provocation — as though that was even possible.
Maybe it is time, finally, to stop punishing the innocent preemptively for the actions — in this case, anticipated actions — of an infinitesimal few?
An earlier version of this post claimed Mathis posted his opinion in the Philadelphia Inquirer
> >Follow Noah Rothman (@NoahCRothman) on Twitter
Have a tip we should know? tips@mediaite.com