Comcast Wants MSNBC To "Go More Liberal," And More From Olbermann's Twitter Last Night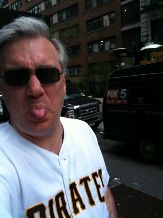 MSNBC's Keith Olbermann joined Twitter in April, and since has amassed more than 82,000 followers while tweeting nearly 3,000 times.
He's one of the most high-profile, completely-engaged personalities on Twitter, and yesterday was no exception. He tweeted 189 times over the past 24 hours, about everything from Comcast to his staff going to Lawrence O'Donnell's show to Andrew Breitbart and "freakin' nuts" Bill O'Reilly.
We've detailed some of his Twitter highlights before, but last night, as he tweeted past 4amET, he was really on an insomniac roll. (Also, earlier this week he had some words for me on Twitter.)
The most interesting exchange may be a response to someone who suggested there would be "changes at MSNBC" after Comcast takes over NBC. "Yeah, they want to go more liberal," wrote Olbermann. That will be something to watch – considering Comcast execs have said in the past they're thinking of starting a Fox News competitor as well.
He also talked about the two high-level producers leaving his show for O'Donnell's. Olbermann writes the "promotions were made weeks ago, they were just announced this week." Also, the show is "actually adding two positions plus replacing the two who got promotions to run O'Donnell. And I don't swear at them." (That was a question about stories he treated his staff poorly.)
Let's see what else? Someone expressed how much they learned about Olbermann from Ben Affleck's Saturday Night Live impression. "Wow. An SNL sketch authored by a right wing writer that made fun of my mother 'opened your eyes?'" tweeted Olbermann.
His take on Breitbart v. Sherrod: "If he didn't, he simply disseminated tapes dishonestly edited by others, without checking. So he's either a miscreant or a fool." He asked for a "summary of Rach v Blow-hole" last night. Later, he called O'Reilly "freakin' nuts."
Then there was @TomBoys, who told Olbermann "you make me literally want to puke," early this morning. "Keep puking. I would guess it would be the most intelligent thing ever to come out of your mouth."
And a reminder – this is Day 5 of Keith Olbermann's vacation…hard at work on Twitter and even in studio Wednesday.
—–
» Follow Steve Krakauer on Twitter
Have a tip we should know? tips@mediaite.com