Complaining About The Complainers: Maddow, MSNBC Mocking Of WH Press Corps Is Comedy At Its Finest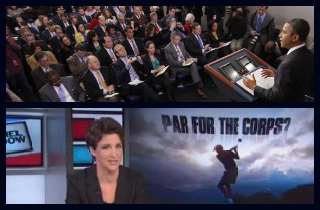 In the controversy surrounding members of the White House Press Corps getting grumpy about access to the President during a recent golf getaway with Tiger Woods, MSNBC's reaction has been downright Kevin Baconian:
"Remain calm! All is well!"
The aforementioned line comes from Animal House, the greatest campus comedy of all time. But it almost pales in comparison to the slapstick echoing from the cable campus at 30 Rock, where everyone from Rachel Maddow to Morning Joe is complaining about the complaining that started after the President decided to lock them out of his round with Woods (which, as Charles Krauthammer perfectly stated, is "the biggest non-story the media have created since the Kardashian weddings".
Since most logical folks from both sides of the aisle would agree with Dr. Krauthammer, let's focus on MSNBC's reaction to the actual complaint, which isn't just about the golf trip, but overall throughout Mr. Obama's tenure.
Here's Maddow on Tuesday night (mockingly): "One ABC reporter calling it a disgrace. A FOX News reporter saying there was, quote, "extreme frustration." Politico.com reporter saying the president must be fearful of talking with them, them meaning White House reporters." Maddow would later add: "it's a disgrace" to say Obama is just "fearful of talking with them."
MSNBC's Morning Joe panel also instructed everyone to remain calm. "Just stop it," Mike Barnicle admonished. "It makes us out to be spoiled, pampered, you know, people. Just stop it."
Spoiled is an appropriate word here, because no one is more spoiled in cable news with direct access to the President than the folks at the Lean Forward Network.
As noted here before, just two months ago the aforementioned Maddow, Lawrence O'Donnell, Ed Schultz and Al Sharpton were all invited to the White House to discuss messaging strategy on taxes and the Fiscal Cliff. Awesome…who needs producers, writers and a Rhodes Scholar like Maddow when the President can advise you directly on how to deliver a show to your audience?
Oddly, none of the MSNBC anchors hyped the visit on their respective shows or mentioned the visit on Twitter in the days leading up to it. The network itself didn't bother to promote the big trip in its advertising. It wasn't until the four were spotted going into the West Wing that anyone at the network even mentioned what was happening.
Question for Maddow: How many one-on-one opportunities has Ed Henry (Fox)—who originally lodged the complaint—had with the President?
How many invites to the Oval Office under this President has that ABC White House correspondent you mentioned—Ann Compton, who's only done this for nearly 40 years—enjoyed?
How about Mike Allen, the seasoned reporter from Politico who made the comment you described as a "disgrace" that the President is fearful to talking to them?
All rhetorical questions…
Rest assured, the President would never be afraid of Ms. Maddow. According to his own White House Deputy Press Secretary, he's the one dictating the message to her:
"This afternoon at the White House, the President met with influential progressives to talk about the importance of preventing a tax increase on middle class families, strengthening our economy and adopting a balanced approach to deficit reduction."
What hard-hitting questions did Maddow and her colleagues ask during this clandestine visit? It wasn't listed on the President's schedule that day, nor was any minutes of the meeting released. The Huffington Post would later describe it this way: "Obama met with Rachel Maddow, Al Sharpton and other "influential progressives" on Tuesday as part of his campaign to sell the public on the need to extend the Bush middle-class tax cuts."
"Sell the public…"
And before conservatives start pointing the finger, just remember that George W. Bush had Sean Hannity and Laura Ingraham over to 1600 Pennsylvania for a nice chat on messaging, too.
In Barnicle's words to both sides, "Just stop it."
Maddow, of course, is just an objective witness. Here's how she stated her position in media on Real Time With Bill Maher last year:
"Listen, my job is to cover these things, not to tell you how I like them or not."
Even Maher was left speechless by that statement.
MSNBC thinks it's laughable that the White House Press Corps is complaining about access.
And why not?
When you're the top one percent of the press getting direct invites from the Commander-in-Chief himself, you can afford to mock the other 99 percent.
Disturbing trend?
Sure…
But remain calm…
All is well is today's media.
— —
Follow Joe Concha on Twitter (@ConchSports)
Have a tip we should know? tips@mediaite.com