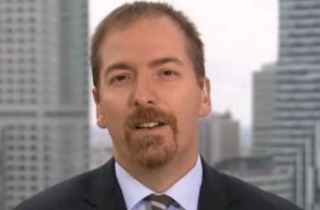 We're now six weeks into the Chuck Todd era as moderator of NBC's Meet the Press. And quite frankly, outside of a strong debut, the mistakes being made both on-set and off have made this second first impression go about as poorly as NBC could have feared.
First, the numbers: They're ugly. MTP under Todd debuted at #1 in the demo the week after Labor Day. Since that time, he's dropped back to the David Gregory position known as a comfortable third. But here's where things are disturbing if you're NBC News President Deborah Turness: Over the past two weeks — which were heavy, compelling news cycles from Ebola to ISIS to the upcoming midterm elections — Meet is down 34 and 30 percent in the demo, respectively. (Note: We're not talking being down this much from the Russert era or some kind of high water mark of the past, but from the same time last year, when the Gregory offering was limping along. For context, last week saw ABC's This Week up 8 percent in the demo year-to-year while CBS's Face the Nation was up 13 percent.)
As any respected TV exec will tell you, if this is how a program — with an existing brand name, plenty of hype and a new set to match — comes out of the gate, it will only perform worse after the new car smell wears off.
Off-camera, the decisions have seemingly been misguided and mismanaged. For example, why is Mr. Todd even speaking to Media Matters? Or Breitbart for that matter? Both sites are successful and have their own niche audiences — that's not the point, nor is it an indictment on what each provides in terms of content. But as the neutral moderator of the television's longest-running program, Todd probably shouldn't sit down publications seen as heavily partisan for the perception it gives alone. Choose Time, AP, Reuters, Bloomberg, Slate, National Journal, even Politico — but the more polarizing publications offer no reward. Bad form. The bigger question is: Who signed off on this decision?
As far as the importance of a neutral moderator not making himself the story, well, Chuck keeps jumping in without reservation. Could you ever picture Russert saying he felt "physically ill" after one party (GOP) used his remarks — which were made very publicly and therefore fair game — in a campaign ad? Again, it's about perception. And if you're a conservative, you might think twice about just how neutral Todd — who otherwise has been accused of bias by both sides, which is usually a sign of playing it straight — really is when he editorializes so openly.
Another head-scratcher: One of Chuck's targets in both interviews is Fox News, which Chuck says has an "obsession" about media bias. He also appeared to take aim at Fox News CEO Roger Ailes, stating "it doesn't help when any former political operative is involved as a news executive in any form" because "it's all winning and losing."
Again, putting ideology aside, if the goal is to broaden a shrinking Meet the Press audience, is it smart to attack the #1-rated cable news outlet, whose audience loyalty — even its critics would agree — is easily the fiercest of any network? Why alienate potentially half your audience? To quote the immortal Captain Tom "Stinger" Jordan in Top Gun, Chuck's ego is writing checks his body can't cash.
Add it all up:
– One-third of Gregory's relatively small audience (compared to CBS and ABC) has jumped the MTP ship in the past two weeks alone. The show is third and dropping in the Sunday morning talk show race despite a PR push that is clearly doing more harm than good.
– Todd is speaking out of turn by making himself the focus, and doing so with publications that may further give the wrong impression on being an honest broker.
This isn't all on Todd's shoulders. NBC News management, from Turness to the PR shop, needs to tell their moderator to concentrate more on doing a better show and less on promoting his brand.
Because if you thought the Gregory era was a rocky one, it's already looking downright disciplined and tranquil compared to the potential mess the current Meet the Press moderator is creating for himself.
— —
>> Follow Joe Concha on Twitter @JoeConchaTV
Have a tip we should know? tips@mediaite.com