Concha: ISIS Weaponizes Social Media To Command World Stage, Recruit Americans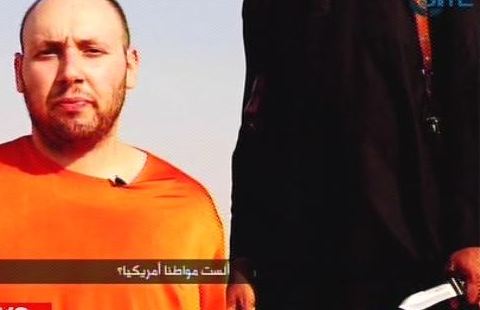 It's that pit in your stomach only reserved when exposed to the darkest side of human existence. It's seeing innocents forced to jump from the Twin Towers or a woman being stoned to death in Afghanistan.
It's seeing a photo of James Foley's bloodied, decapitated head on top of his own body (I couldn't watch the video). It's seeing the same image for Time freelance journalist and Florida native Steven Sotloff, who likely knew exactly what was coming after apparently being just feet away when Foley's life was savagely ended two weeks ago. Sotloff's apparent slaughter (the footage still needs to be independently verified by intelligence experts) was just described by British Prime Minister David Cameron as "despicable and barbaric."
Learning of this kind of news with visual and audio evidence so quickly wasn't always like this. It seems like a lifetime ago, but Wall Street Journal reporter Daniel Pearl's beheading in Pakistan at the hands of Al Qaeda (and specifically 9/11 mastermind Khalid Sheikh Mohammad) in 2002 was well before the YouTube and Twitter era. Back then, the only way a terrorist organization could get any video of such an act, or a video message out to the masses, was primarily via hard videotape. Footage was often grainy and low-rent. Said tape would need to exchange several hands over weeks at a time before a courier could get it to news organizations like Al Jazeera, based in Qatar but with studios and offices located throughout the Middle East (Al Jazeera America, based in New York, only debuted last year).
Al Jazeera never broadcasted the beheadings of those like Mr. Pearl, but was largely criticized by the West of being sympathetic towards Al Qaeda, with many Western leaders and commentators even going so far to accuse the network of engaging in outright propaganda. Former U.S. Secretary of State Colin Powell once went so far (in October 2001) to demand the emir of Qatar shut down the channel entirely after it repeatedly broadcast video messages in their entirety from Osama Bin Laden.
In 2002, the video of James Foley's execution would likely still be in the courier stage. Most Americans still wouldn't have the first clue who ISIS is or the evil it represents. Now ISIS sees how powerful a weapon social media can be.
From this Sunday's New York Times:
The extremists who have seized large parts of Syria and Iraq have riveted the world's attention with their military prowess and unrestrained brutality. But Western intelligence services are also worried about their extraordinary command of seemingly less lethal weapons: state-of-the-art videos, ground images shot from drones and multilingual Twitter messages.
Terrorism at its core has always been less about body counts and more about messaging, about fear. If ISIS kills 200 Kurds in a battle in Iraq tomorrow, almost all Americans wouldn't even raise an eyebrow. If ISIS beheads an American journalist, then another, it gets almost everyone's undivided attention. With Twitter now at 250 million active accounts worldwide and Facebook at well over one billion, spreading fear and grabbing the world stage instantly is becoming an all-too-easy part of the terrorist game plan.
According to American intelligence, over 100 Americans have now joined ISIS. Over one thousand Europeans have done the same. So who's winning the PR war? Look at this example uncovered by the NY Times' Scott Shane and Ben Hubbard: An ISIS member going by the name Abu Turaab tweeted this message out recently: "For those who want to come but are facing obstacles, be patient and keep the desire for Jihad alive within you always."
The State Department account replied the following: "ISIS recruits' 2 choices: commit atrocities & die as criminals, get nabbed and waste lives in prison."
The Times reported as of last Friday, the Turaab comment was favorited 32 times (now 34 as of this afternoon). At last check, the State Department response as of 4:30 PM today? Favorited 34 times.
A few months ago, ISIS was an unknown entity, a JV team.
Now it can enter your living room, the pit of your stomach, almost instantaneously.
And in the process, all thanks to supersonic social media…has its most effective recruiting tool of those living inside and outside of our borders as well.
[Image via screengrab]
— —
Follow Joe Concha on Twitter @JoeConchaTV
Have a tip we should know? tips@mediaite.com