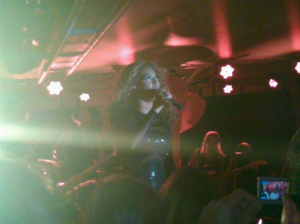 On Sunday, Mediaite reported that singer Beyoncé Knowles had given a private New Year's Eve performance for an exclusive crowd in St. Barth — and made the case that she had performed and been paid by relatives of Libyan dictator Muammar Gaddafi (variously known as Khadafy, Qaddafi, Quadhafi and more). Atlanta-based blogger Necole Bitchie reported a $2 million fee; the UK Mirror reported a "six-figure sum" and yesterday Media Takeout made the same claim, repeating the $2 million number and confirming the Gaddafi-hosted party from a guest who was there (hip-hop impresario Russell Simmons also placed Beyoncé at a "Khadafy party." Today Page Six confirms our original report, with one new piece of information: the party was thrown by Hannibal Gaddafi, son of the Libyan dictator who less than a week before made headlines for allegedly attacking his wife in a London hotel.
Page Six notes — as we did! — that Beyoncé's sang five songs for a crowd that included her husband Jay-Z, Lindsay Lohan and Usher (who also did the New Year's countdown); Jon Bon Jovi, Simmons, supermodels Miranda Kerr and Victoria Slivstedt and BET founder Bob Johnson. Page Six could not confirm the rumored $2 million sum cited elsewher, but did note (again as we did) Mariah Carey's reported $1-million payday for the same gig last year.
Last year's party, it should be noted, was thrown by Hannibal's brother Moatessem-Billah Khadafy, according to a report from the New York Daily News last January. Their other brother, Saif Gaddafi, was originally rumored to have hosted either or both of the parites, but was in New Zealand this year and Asia last year. Meanwhile, Page Six has a lovely rundown of brother Hannibal's seemingly frequent bouts of violence and reckless behavior. Odds are Beyoncé probably didn't see his halo.
It should be noted that Jay-Z also reportedly joined Carey last year in performing for the Gaddafi party, and that there was no backlash for either of them (indeed, Carey went on 20 days later to sing for President Obama's inauguration — as did Beyoncé). However, this year Muammar Gaddafi's history of terrorism has come to the fore with the release of Lockerbie bomber Abdel Basset Ali al-Megrah, the Libyan convicted of setting the bomb that took down Pan Am 103. Gaddafi and Libya accepted responsibility for the bombing in 2004, and has paid millions of dollars in reparations to the victims' families.
More information on the Gaddafi family and Beyoncé's performance on New Year's can be found here. Reps for Beyoncé and Nikki Beach did not respond to queries from Mediaite or Page Six.
Update: Initial reports that Microsoft Founder Paul Allen was at the party were incorrect. According to a source with direct knowledge of the situation, Allen was in the area (as evidenced by Russell Simmons' photo of his yacht) but was not at the Beyoncé-Gaddafi event. Original reports that Saif Gaddafi hosted the last year's party have also been corrected.
Video from the audience of Beyoncé's performance at Nikki Beach:
Beyoncé New Year's Eve: Performing For Gaddafi Family? [Mediaite]
Beyoncé New Years Rumors Continue: One More Link To Gaddafi Family [Mediaite]
In Beyoncé's New Year's Audience: Russell Simmons, Tweeting About "Khadafy Party" [Mediaite]

Related:
Beyonce Receives $2 Million to Attend Private Party for Family Linked to Terrorist Activities [Media Takeout]
New Years Eve Pics: Beyonce, Jay-z & Usher in St. Barts, Diddy In Miami [Necole Bitchie]
Beyonce Sings for a Khadafy [Page Six]

Photo by Russell Simmons, from his TweetPhoto.
Have a tip we should know? tips@mediaite.com