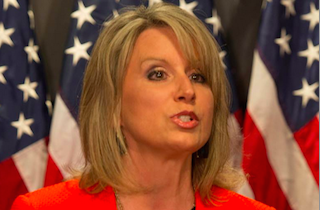 During a meeting of conservative women in Congress this week, Rep. Renee Ellmers (R-NC) offered up some advice to Republican men when it comes to discussing policy: "Bring it down to a woman's level."
According to a report on the meeting from the Washington Examiner, Ellmers, who is up for reelection in the fall and will face former American Idol runner-up Clay Aiken, had the following advice for her male colleagues.
Below is what Ellmers expressed in the meeting, via reporter Ashe Schow:
"Men do tend to talk about things on a much higher level," Ellmers said. "Many of my male colleagues, when they go to the House floor, you know, they've got some pie chart or graph behind them and they're talking about trillions of dollars and how, you know, the debt is awful and, you know, we all agree with that.

First she's saying that men (perhaps only Republican men) don't know how to connect with people. Second, she's saying people are too stupid to understand pie charts.

Ellmers then said that women mainly want more time in their lives (don't men as well?) and the first example she gave was that women wanted "more time in the morning to get ready."

As for connecting to women specifically, Ellmers drove it home with a line that, had there been liberals in the audience, would have made the news.

"We need our male colleagues to understand that if you can bring it down to a woman's level and what everything that she is balancing in her life — that's the way to go," Ellmers said.
In a statement responding the Examiner's story about the meeting, Ellmers said her words have been "taken completely out of context" and blamed "certain leftist writers" for engaging in "'gotcha' journalism."
"I am a woman, and find it both offensive and sexist to take my words and redefine them to imply that women need to be addressed at a lower level," Ellmers said.
[h/t ThinkProgress]
[Photo via Facebook]
— —
>> Follow Matt Wilstein (@TheMattWilstein) on Twitter
Have a tip we should know? tips@mediaite.com