Conservative Site Blasts Diddy For Promoting Aquahydrate Product On Memorial Day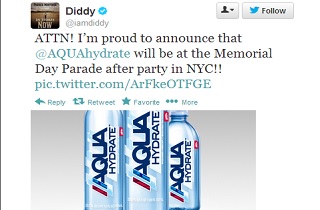 Memorial Day just might be the national holiday whose public expression bears the least resemblance to its true meaning, as millions of Americans use the solemn occasion to kick off cookout season, and take advantage of savings that, like our country, are to die for! While I'm sympathetic to the idea that Memorial Day's true meaning has become a trivial afterthought in our culture's observance, I am baffled by Michelle Malkin site Twitchy.com's decision to single out Sean "Diddy" Combs over his rather ordinary Memorial Day promotional efforts. Twitchy is well-known for selective outrage, but this seems a little too specific even for them.
On Sunday, the rapper/producer/entrepreneur tweeted this, about one of his many business ventures:
ATTN! I'm proud to announce that @AQUAhydrate will be at the Memorial Day Parade after party in NYC!!
That was at 6 a.m. (!?), and that afternoon, Diddy also tweeted:
Share your @AQUAHYDRATE photos with me!! I'll RT my favorites!!!
Then, weirdly, at exactly 6 a.m. Monday morning, Diddy tweeted:
Perform at the top of your game. #NoMatterWhat @Aquahydrate pic.twitter.com/bgL3KWt9l4
Even weirdlier, Diddy tweeted this at exactly 6 a.m. on Saturday:
Electrolyte Enhanced, pH9+ Supercharged!! @AQUAHYDRATE
Either Diddy is a very early riser with OCD, or these are pre-scheduled promotional tweets that are part of a marketing campaign for the beverage company that he's a partner in. If anyone should be annoyed, it's Diddy's eight million or so Twiter followers, but for some reason, this really got under Twitchy's skin:
Rap mogul P. Diddy/Diddy/Puff Daddy/Puffy/Sean Combs showed his patriotic spirit. Sort of. The colors of his Aqua Hydrate fitness water, which he plugged as the beverage of choice this Memorial Day weekend, are red, white, and blue.
So far, I don't get it, but yeah, the guy changes his name a lot, ha-ha? And his product uses red, white, and blue in its logo? Why do these two soft-sell tweets, on a day when every business in America takes advantage of the holiday to offload some swag, merit their very own Twitchy article?
Appropriately, Diddy hosted one of his Memorial Day par-tays at a club called "Vanity."
Still not getting it. How does a run-of-the-mill social media marketing campaign suddenly equate to "vanity" when Diddy does it? Maybe this is just a case of Twitchy knowing its audience, but I don't know why conservatives would object to a successful capitalist like Sean "Diddy"Combs, or an entrepreneurial effort like Aquahydrate. Doesn't make any sense.
Twitchy does offer a measure of mitigation for Diddy's crime, whatever it was, in its conclusion:
Whelp. At least he didn't wish anyone a "Happy Veterans Day."
Here's what's really weird, though. That link goes to another Twitchy post about a rather callous desecration of Memorial Day, a cornucopia of Twitterers who mixed it up with Veterans Day. Sean "Diddy" Combs gets put on blast for basically no reason, but what's Twitchy's verdict about completely misidentifying this solemn holiday, once they learn that Fox News did it?
We'll give everybody a break — the pressure is mounting because Thanksgiving is in a couple of weeks and they haven't bought the turkey yet.
That was mighty white of them, don't you think?
Have a tip we should know? [email protected]