Conservatives Mock Jeff Flake For Donating to Doug Jones Campaign: This is a 'Bad Idea'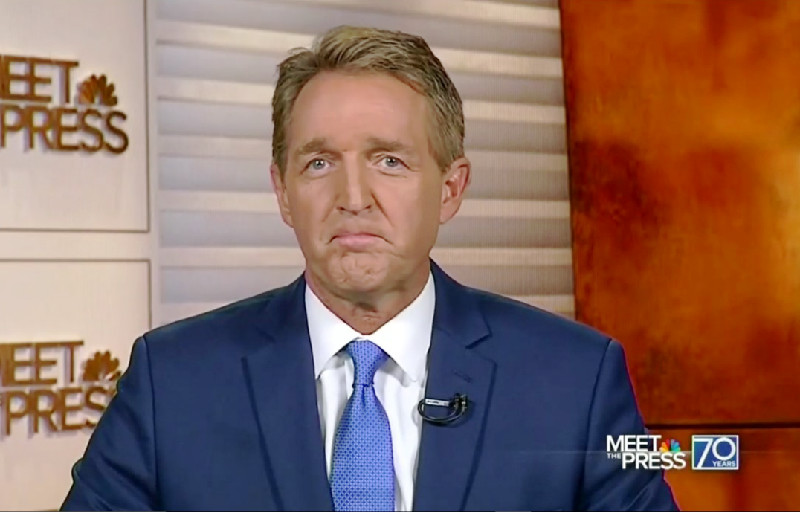 Earlier today, Sen. Jeff Flake (R-AZ) made a big political statement by writing a $100 check to Alabama Democrat Doug Jones.
The outgoing senator has been outspoken about his disdain for GOP senate candidate Roy Moore, whose campaign has been dogged with sexual misconduct and child molestation allegations. Last month, he had said he would support a Democrat over the controversial judge. And it appears he truly put his money where his mouth is.
While Flake was applauded by the left for making such a financial contribution, conservatives blasted the senator, not necessarily for helping Jones, but for ultimately helping Moore.
I think Jeff Flake just won the election for Roy Moore.

Flake just galvanized every angry Republican to vote. #JeffFlakehttps://t.co/dGnCGMdPqE

— #ThePersistence (@ScottPresler) December 5, 2017
#BREAKING: Instead of simply abstaining, Jeff Flake chooses to openly support late-term abortion. https://t.co/DO4cRnFqMh

— Jesse Kelly (@JesseKellyDC) December 5, 2017
How does Jeff Flake attempt to remain relevant? He donates $100 to the late-term abortion supporting Democrat in the #ALSen race.

Smh.

— Joe Walsh (@WalshFreedom) December 5, 2017
Roy Moore campaign couldn't have dreamed of a better late boost for their fundraising. A measly $100 for Jones from a GOP establishment figure: priceless. https://t.co/16wv3uIvao

— Toby Harnden (@tobyharnden) December 6, 2017
If Flake really wanted to help Doug Jones, he wouldn't have pulled that stunt today. https://t.co/tA7TFRSOGX

— Peter J. Hasson (@peterjhasson) December 5, 2017
Jeff Flake is the worst https://t.co/N8ZM67Zf1N

— Kurt Schlichter (@KurtSchlichter) December 5, 2017
A step too far https://t.co/IprTFQbZAu

— Ben Shapiro (@benshapiro) December 5, 2017
Republican Arizona Senator Jeff Flake sends $100 check to Alabama Democrat Doug Jones for his campaign.

Flake supports full-term abortion and radical gun-control laws. pic.twitter.com/cuMT7ppEwW

— Ryan Saavedra ?? (@RealSaavedra) December 5, 2017
you're awful

— Patrick Blanchfield (@PatBlanchfield) December 5, 2017
Live look at Salon Conservative HQ where we are prepping to unveil the Jeff Flake statue. pic.twitter.com/32AZIajgoY

— Tim Miller (@Timodc) December 5, 2017
The abortion-until-birth Jones will be grateful for this. https://t.co/H8a5rz5c6s

— Katie Pavlich (@KatiePavlich) December 6, 2017
Jeff Flake and Mitt Romney's criticism of @MooreSenate will help Moore get elected… Not to mention Flake's $100 campaign contribution to "Doug Jones for US Senate."

— Ed Martin (@EagleEdMartin) December 5, 2017
Even one of Flake's Republican colleagues, Nebraska Senator Ben Sasse, thought it was a "bad idea."
This donation is a bad idea.
It's possible to be against BOTH partial birth abortion AND child molestation. Happily, most Americans are. https://t.co/BjVH2gL69F

— Ben Sasse (@BenSasse) December 6, 2017
And it appears Roy Moore is attempting to fundraising off of Flake's donations to Jones.
CALLING ALL PATRIOTS! Pro-amnesty, big gov't Republican Senator @JeffFlake just donated to my pro-abortion, open borders, anti-gun liberal opponent.

I'm asking for 100 grassroots conservatives to step up and reject the DC Establishment by donating HERE: https://t.co/ig9d3KOKn4 https://t.co/jFLUpwElqx

— Judge Roy Moore (@MooreSenate) December 5, 2017
[image via screengrab]
Have a tip we should know? tips@mediaite.com