Bannon Slams Jeff Flake Over Check to Doug Jones: Only '$100! Are You Kidding Me?'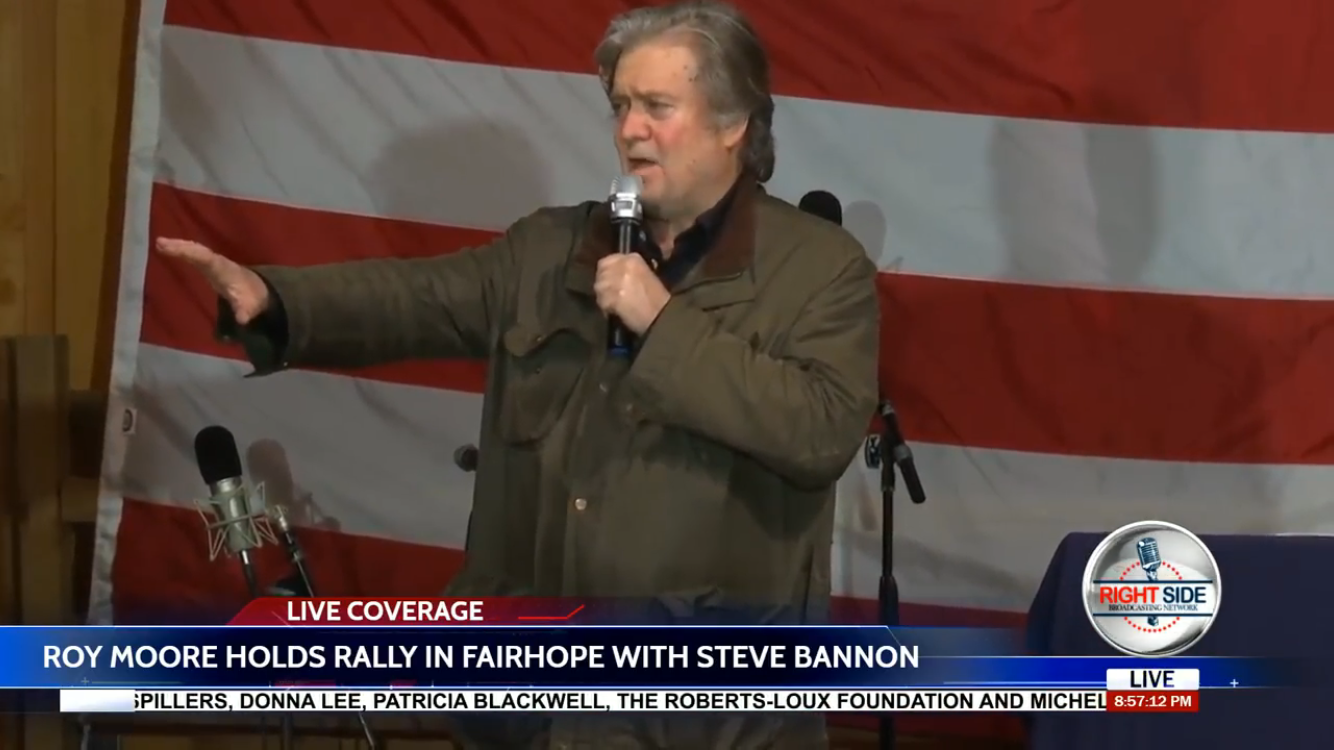 Steve Bannon, the executive chairman of Breitbart News and former White House chief strategist, hosted a rally today supporting accused child molester Roy Moore for Senate — in which he unloaded on Senator Jeff Flake for putting "country over party."
In response to the Arizona senator donating a check to Moore's Democratic opponent Doug Jones, Bannon mocked Flake for giving only $100 and attacked him as a part of the "establishment."
The former Goldman Sachs investor stated the following while appearing on stage in Fairhope, Alabama:
"Let's talk about Jeff Flake — did he sign a check today, $100, to Jones, right? What did he say, 'Put country ahead of party?' Come on brother, if you're gonna' write a check, write a check. Don't give the man $100! Are you kidding me? Hey Flake, this is why your approval rating in your home state is like 11 percent. No, man you're a total embarrassment… Flake has hated Donald Trump from day one, Flake has hated this movement since day 1. He wrote a book, the anti-populist, the anti-economic nationalist book. Trashed all the deplorables. Trashed all the silent majority. Trashed everyone associated with this movement."
Bannon went on to imply that Flake supported Democrat Hillary Clinton in the 2016 election and added that he has "done nothing but run the President of the United States down since he won."
"Now, he comes out at the last second and says, 'I'm gonna' give $100 to a Democrat.' This tells you all you need to know," said Bannon to cheers and shouts from the rowdy Alabama crowd.
Bannon's pro-Moore rally comes just after both President Donald Trump and the Republican National Committee have thrown their weight behind the GOP candidate, despite the numerous women who have come forward to accuse the former Alabama Supreme Court justice of predatory behavior and other sexual misconduct.
The special election, which was triggered after Jeff Sessions was appointed attorney general,  is just a week away.
[image via screengrab]
Follow the author on Twitter (@calebecarma).
Have a tip we should know? tips@mediaite.com