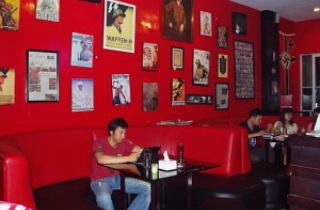 In today's edition of utterly baffling and totally indefensible business decisions, a cafe called Soldatenkaffee has apparently settled on Nazism as a valid theme.
Customers at the place in West Java, Indonesia can look forward to waitstaff in SS uniforms (modeled after Adolf Hitler's powerful paramilitary unit responsible for carrying out many of his regime's murderous deeds), giant Swastika banners, and photos of the dictator adorning the walls. Because, you know, there's nothing quite like having a meal under the watchful eye of the universally-hated homicidal, anti-Semitic, homophobic, and racist megalomanic to build up an appetite.
Oddly enough, the decision to model a restaurant on the back of one of the more evil dictators in recent memory evil has inspired derision, controversy, and sheer disbelief.
According to the company's Facebook page, the café has been open since March, but the page is surprisingly free from outrage — only a single user has currently posted to express their concern. The owner of the restaurant, Henry Mulyana, claims that it was not his intention to encourage hatred — but instead to attract customers, presumably those who would not be offended by such an audacious business decisions.
Unsurprisingly, the town's deputy mayor has summoned Mulyana to a meeting with officials to determine his intentions, saying Nazi propaganda is "internationally recognized to represent violence and racism." Mulyana does claim that he has not broken any laws, but he is shining an international spotlight on the more "relaxed" attitude some Indonesians apparently have towards hateful and racist symbols. Other shops in Indonesia apparently sell apparel emblazoned with Swastika symbols.
Ultimately, however, the outrage has forced him to shutter the restaurant — at least temporarily — and perhaps driven him to reconsider this mind-bogglingly insensitive marketing plan.
Have a tip we should know? [email protected]