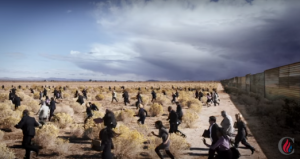 The Ted Cruz campaign is taking risks and making bold moves as the clock runs down on the big Iowa Caucus. Two days ago, they poached the communications director, Alice Stewart, from the camp of rival Mike Huckabee, making her Cruz's spokeswoman and senior advisor and steadily moving toward what just might be a big win for them in the Hawkeye State. After all, Stewart has been on the winning team for the last two victors to emerge from this important caucus.
One of the first things Stewart did in her new position from within Cruz's camp was retweet the link to his latest ad, which focuses on immigration. The ad is bold and has already garnered a lot of attention this morning. The cinematography is especially eye-catching and is sure to make the minute-long spot stand out among its competitors as it begins running in New Hampshire today. (Pay attention to the dramatic music and slow-motion shots!)
The clip, which shows men and women in suits running through streams and over tough terrain, promotes Cruz's determination to double down on the popular GOP talking point of border control but is noteworthy because it tackles the issue from a new perspective. The commercial examines illegal immigration through an economic lens, asking what would happen if the people entering the United States unlawfully were coming with law or journalism degrees. Here, Cruz pulls no punches, proving a point to leaders and voters in both parties: The borders are not as secure as they could be now because securing them wouldn't have any benefits for elites.
What is often overlooked in the immigration debate is the fact that those who are coming into the country illegally are not taking high-paying jobs. Instead, they are taking meager wages under elite business owners and influencers, who, in turn, are benefitting from the country's sub-par border security.
While these lower-paying jobs may not seem to the average voter to be causing fiscal turmoil, the presidential candidate thinks we are framing the issue all wrong. Cruz refers to problems with immigration as "an economic calamity" in his voiceover before revisiting his promise from the last Republican debate to triple border security.
Regardless of its reception in New Hampshire, the ad is sure to garner a lot of attention and headlines for Cruz, who, at least in yesterday's California Republican Presidential Primary, is leading the GOP race by two points.
Image via screencap.
For more from Lindsey, follow her on Twitter.
Have a tip we should know? tips@mediaite.com