Current Heavyweight Boxing Champion Tyson Fury Admits to Suicidal Thoughts, 'Lots of Cocaine' Use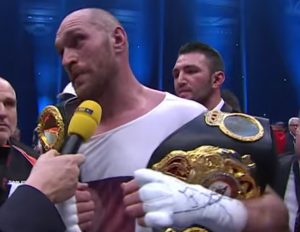 Tyson Fury improbably became heavyweight champion of the world earlier this year when he defeated longtime titleholder Wladimir Klitschko. Ever since, his life has spiraled out of control.
In an interview with Rolling Stone, Fury admitted to having done "a lot of cocaine," and opened up about the severe depression he's currently battling — including thoughts of suicide.
"They say I've got a version of bipolar," Fury said. "I'm a manic depressive. I just hope someone kills me before I kill myself."
Fury has twice had to postpone a contractually mandated rematch with Klitschko, and now is likely to be stripped of his title belts. He told Rolling Stone that along with the cocaine use, he has been drinking daily over the past four months
Listen, I've done a lot of things in my life. I've done lots of cocaine. Lots of it. Why shouldn't I take cocaine? It's my life isn't it? I can do what I want. Yeah, I have done cocaine. Plenty of people have done cocaine as well. What the f*** has that got to do with anything?
Fury added this about his battle with depression:
I've been going through depression. I just don't want to live anymore, if you know what I'm saying. I've had total enough of it. They've forced me to the breaking edge. Never mind cocaine. I just didn't care. I don't want to live anymore. So cocaine is a little minor thing compared to not wanting to live anymore.
[image via screengrab]
–
Follow Joe DePaolo (@joe_depaolo) on Twitter
Have a tip we should know? tips@mediaite.com
Joe DePaolo - Senior Editor