Dana Loesch Sues Breitbart.com To Nix Contract, Claims 'Indentured Servitude'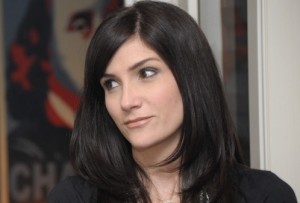 Radio host, sometime CNN contributor, and Breitbart.com non-blogger Dana Loesch has filed suit against Breitbart.com LLC, according to The St. Louis Post-Dispatch, seeking release from her contract, and $75,000 in damages. The move punctuates a sad, tumultuous year for the website, which saw the sudden, tragic death of its founder and namesake, Andrew Breitbart, in March, and a bad year for Loesch, who hasn't been published on the site since September 13, and hasn't been seen on CNN in months.
From The St. Louis Post-Dispatch:
Conservative talk radio host and commentator Dana Loesch sued the owner of the conservative website Breitbart.com Friday, claiming that although her relationship with the news and opinion aggregating website had gone "tragically awry," Breibart.cοm LLC refused to let her work for the company or anyone else, forcing her into "indentured servitude in limbo."

The suit, filed in U.S. District Court here, seeks at least $75,000 in damages, as well as a judge's declaration that her contract had expired.
Loesch's ascendancy, aided by the rise of the Tea Party and the star power of Andrew Breitbart (as well as her own hard work and penchant for provocation), hit several other stumbling blocks this year. Following pressure from critics over her remarks about U.S. troops who were videotaped urinating on Taliban corpses, Loesch's appearances on CNN dried up, although the network insists there was no connection.
In August, at the height of Rep. Todd "Legitimate Rape"Akin's notoriety, Loesch tweeted Akin advising him not to appear on fellow CNNer Piers Morgan's program, then "reached out to the campaign to confirm" Akin had canceled his appearance, and would appear on her radio show instead. Former Mediaite Managing Editor Colby Hall called foul, and Morgan defended Loesch on Twitter, but Loesch hasn't been on CNN since then. Media Matters noted that, in an August CNN online article, Loesch is cited as a "conservative radio host," and not a CNN contributor.
The network confirmed, in November, that Dana Loesch is still a CNN contributor, and multiple sources at CNN say there is no organized blackball, that booking decisions are made by the executive producers of each show, but that poaching Akin might not have endeared her to those EPs. Since Ms. Loesch's main area of expertise is the Tea Party, that movement's decreased visibility during this election probably didn't help.
If she manages to free herself from her Breitbart.com contract, it will be interesting to see where Dana Loesch winds up.
Breitbart.com hasn't responded to requests for comment about the lawsuit, but in response to an inquiry last month about Loesch's status, a representative for the site said "Breitbart News confirms she is still an employee of the company, but we do not otherwise comment on personnel issues."
(h/t Raw Story)
Have a tip we should know? tips@mediaite.com