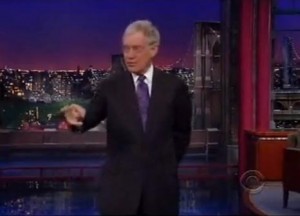 After his jokes about the Palin women spawned a movement to get him fired, you'd think David Letterman would have developed a teensy bit of sensitivity about sex and gender issues. Apparently not. A bit from his Tuesday night show, in which a stagehand flees the set in horrified disgust at transgender Obama appointee Amanda Simpson, has Human Rights Campaign calling Dave out and calling for an apology.
Here's the clip:
The clip is offensive on a number of levels, not the least of which is that, as HRC's letter states, "the punch line in your skit has been used as a defense in nearly every hate crime perpetrated against transgender people that has come to trial."
The Advocate notes a defense of Letterman:
Some argue his skit was actually making fun of the narrow-minded, stereotypical response to learning a friend or colleague is trans.
Maybe so, but in a world where transphobia is still much more acceptable than other forms of discrimination (try Googling "Mann Coulter"), where gags about guys being "duped" by "trannies" are still a comedy staple, you'd really have to hang a lantern on that kind of satire.
The Letterman bit is part of a larger problem, though, one that is neatly symbolized by the fact that my computer's spellcheck function doesn't recognize the word "transgender." It's a complicated issue. Transpeople are routinely thrown under the bus when it comes to legislation, having to fight extra-hard to be included with the LGB part of LGBT.
Last year, I wrote a story that detailed some of those efforts. The stories of the people I met are compelling, and underscore the importance of calling out this kind of ignorance. Transpanic very often leads to violence, and jokes like these contribute to that.
Most critics of Letterman's joke also miss the next layer of subtext, the implication that Amanda Simpson is promiscuous. Surely, such a joke would have raised eyebrows had it been directed at some other female public servant, like Sarah Palin, for instance.
Have a tip we should know? tips@mediaite.com