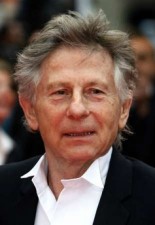 Dear Hollywood,
Since Roman Polanski was arrested Saturday night in Switzerland for fleeing the U.S. after pleading guilty in 1977 to unlawful sexual intercourse (a plea deal for a rape accusation), you've been speaking out in droves to defend the director. CNN describes it as "Hollywood Embraces Polanski", Fox News calls it "Hollywood Left Bands Together to Fight Polanski Arrest".
Here's a tip: stop.
We get it – Polanski is a brilliant director. "Rosemary's Baby" was fantastic. "Chinatown" is a masterpiece. He finally got an Oscar for best director in 2003 with "The Pianist" a heartbreaking film that opened the door for Adrien Brody to make out with Halle Berry. You even gave him a standing ovation that night – even though he wasn't there to accept the award (video on next page).
Of course, that's because he'd be arrested if he set foot in the United States, due to that whole raping a 13-year-old thing. But let's not dwell on that right now.
Hundreds of you guys and others like you in the film world abroad have signed a petition demanding Polanski's release. People like Woody Allen, who is a bit of a creepster himself (although, notably, has not had sex with a 13-year-old). People like Monica Bellucci, who was cinematically raped (for art). People like Harvey Weinstein, who says he is "calling on every filmmaker we can to help fix this terrible situation."
And here's kind of the problem, Hollywood. You think this whole thing is happening to you (or at the very least, to brilliant people like you). Whoopi Goldberg wanted to make very clear this week that what Polanski did wasn't "rape rape." That doesn't make much sense sense, of course, and doesn't address the fact that the director never served his sentence because he fled fled. Even Sharon Tate's sister, who thinks Polanski is a "good guy" and of course "brilliant", wanted to draw the very obvious distinction that "there's rape and then there's rape."
NEXT: How Polanski is not Joseph Goebbels.
Have a tip we should know? tips@mediaite.com