Dem Plan to Re-Open Government Without Wall Gets More Votes in Senate Than Trump Plan With Wall Funding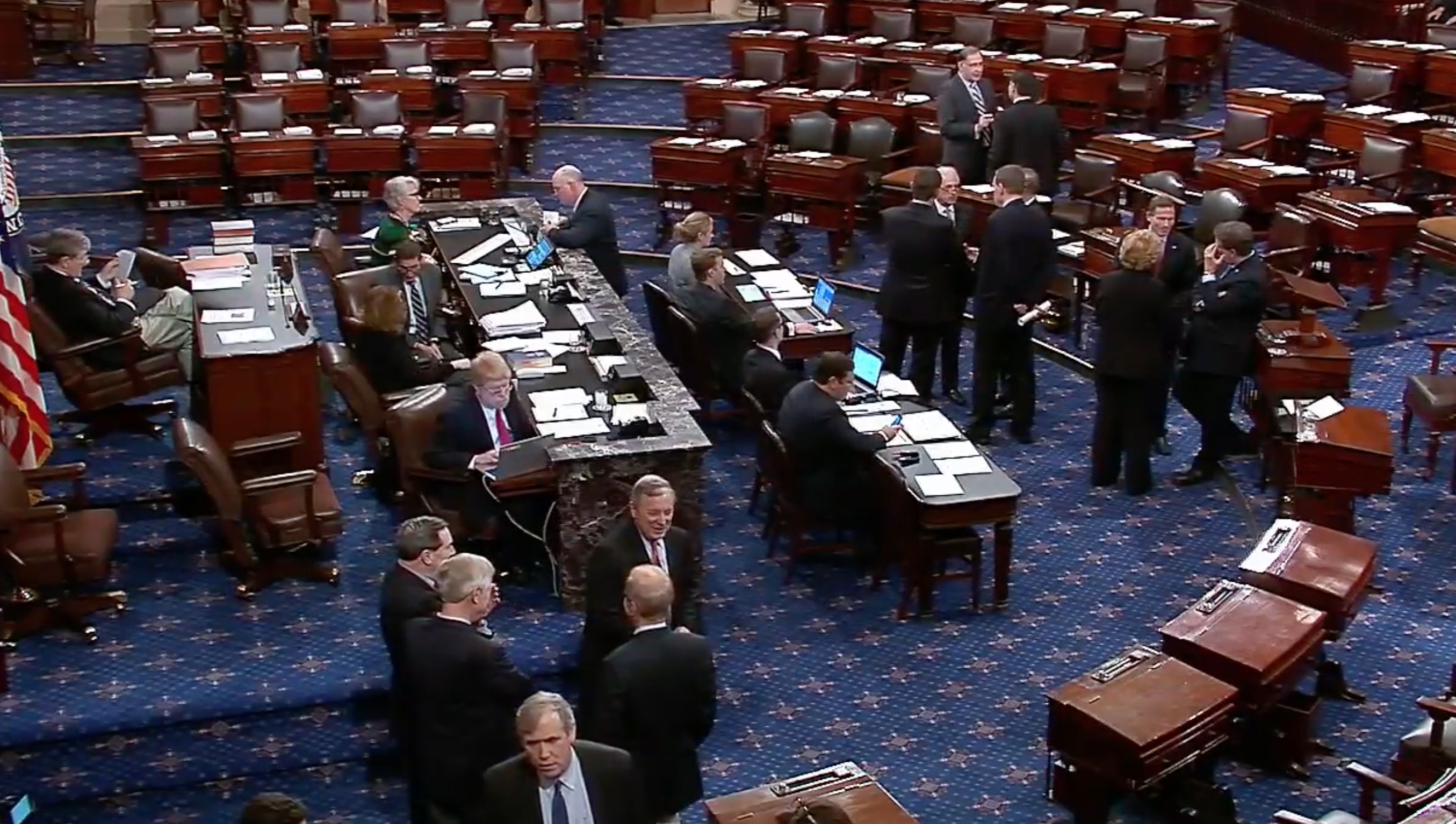 Both bills brought to the Senate floor Thursday to potentially reopen the government were defeated — meaning the 34-day long Federal government shutdown will continue. Interestingly, though, six Republicans crossed the aisle to vote for the Democrat-supported legislation, while only one Democrat voted for the Republican-backed plan, which included funding for a southern border wall.
As part of a compromise struck by Senate Majority Leader Mitch McConnell (R-KY) and Senate Minority Leader Chuck Schumer (D-NY), a plan supported by President Donald Trump went to a vote first. It was defeated by a 51-47 margin. Sen. Joe Manchin (D-WV) defected from his fellow Democrats to vote in favor of the bill. Sen. Tom Cotton (R-AR) and Sen. Mike Lee (R-UT) stood with the Democrats to vote against.
Then, a continuing resolution with no wall funding, which would have funded the government until Feb. 8, was brought to the floor. No Democrat voted against this measure, but six Republicans crossed party lines. Sen. Lamar Alexander (R-SC), Sen. Susan Collins (R-ME), Sen. Cory Gardner (R-CO), Sen. Johnny Isakson (R-GA), Sen. Lisa Murkowski (R-AK), and Sen. Mitt Romney (R-UT) all backed the Democrat-supported legislation.
Trump proposal to open government fails to advance in the Senate by vote of 51-47 (needed 60)

— Igor Bobic (@igorbobic) January 24, 2019
Clean CR fails by vote of 52-44 (needed 60).

6 GOPers bucked Trump and supported it:

Alexander
Collins
Gardner
Isakson
Murkowski
Romney

— Igor Bobic (@igorbobic) January 24, 2019
The defeated votes would seem to be a crushing blow to hopes the government will be re-opened soon. However, soon after the ballots were cast, Schumer said, on the Senate floor, that McConnell has invited him to his office to talk.
Schumer, on the Senate floor: "Leader McConnell has requested I go to his office."

— Phil Mattingly (@Phil_Mattingly) January 24, 2019
Have a tip we should know? tips@mediaite.com
Joe DePaolo - Senior Editor