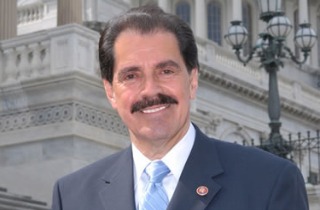 Representative Jose Serrano (D-NY) introduced a bill Friday which would abolish term limits on the U.S. presidency. H.J. Res. 15 seeks to repeal the 22nd Amendment, and if passed, would allow President Obama to become the first president since Franklin Roosevelt to run for a third term.
The bill has been referred to committee and officially states that it seeks "an amendment to the Constitution of the United States to repeal the twenty-second article of amendment, thereby removing the limitation on the number of terms an individual may serve as President."
Serrano's bill was also introduced as H.J. Res. 17 in January 2011. It was sent to the House judiciary committee but never reached the floor for a vote.
RELATED: How President Obama Can Out-Gator Republicans On Debt Ceiling
Just in case it seems Serrano has a particular affinity for only Democratic presidents, it should be noted that he proposed similar bills in 2001, 2003, 2005, and 2007 during the presidency of George W. Bush. He also attempted the bill in 1997 and 1999, during Bill Clinton's administration. He tried again in 2009, in the second year of Obama's first term.
Unfortunately for Serrano, none of these attempts have ever reached a vote.
He's also not the first member of Congress to support a repeal of the 22nd Amendment. Representative Steny Hoyer (D-MD) proposed a repeal during Clinton and Bush's presidencies and current Senate Minority Leader Mitch McConnell (R-KY) wanted a repeal in 1995.
Repealing presidential term limits may also be on the rise among the public: just a few weeks ago, a caller into C-SPAN asked if the Constitution could be amended to allow Obama to have a third term. Unfortunately, he was told the chances for this were "slim."
Watch it below, via C-SPAN:

h/t The Daily Caller
—
>> Follow Anjali Sareen (@AnjaliSareen) On Twitter
Have a tip we should know? tips@mediaite.com